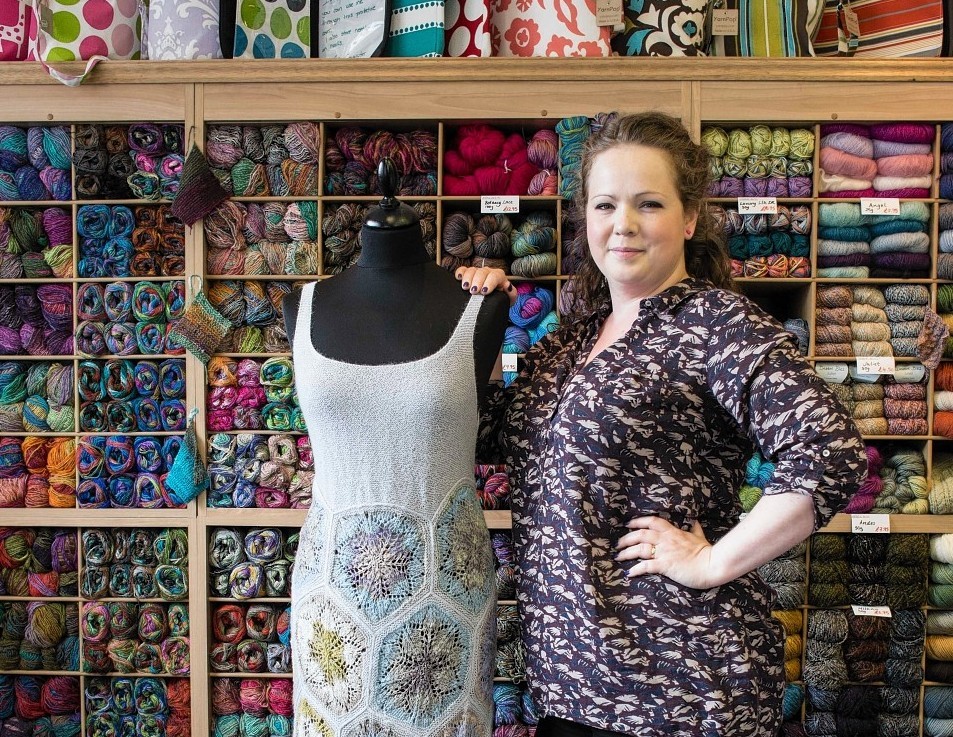 A bride who doesn't like dresses knitted her own unique wedding gown for her special day.
Faye Howard, 30, spent eight months creating the wool dress for her festival-themed wedding at the weekend.
Faye, from Aberdeen, was reluctant to wear a traditional silk frock so decided to make her own outfit for the occasion.
She eventually finished stitching the garment together last week – just two days before she was due to walk down the aisle.
Panicked guests feared she would need to go gown shopping in town at the last minute but Faye kept her calm and finished on time.
Yesterday, Faye said: "Everyone kept asking if I was worried that I hadn't finished the dress.
"But to be honest, I didn't find it stressful. Knitting is what I do, making my dress actually kept me calm.
"I knew I would get it finished.
"I think some people think I'm a bit mad for doing it."
Faye, manager of wool shop Wool for Ewe in Aberdeen, cast on the first stitches in October after finding a dress pattern she liked.
Each circle took about an hour and a half to make. And she soon found herself knitting wherever she could and took her needles and wool in her bag to work.
She would knit circles in the corner of a bar, in the park on her days off and even while out for dinner.
The newly wed said she normally wears denim skirts and leggings and is most comfortable wearing flat shoes.
She said: "I'm not a dress person, I'm not into girly high heels and sparkle and never have been.
"I never even tried on a traditional wedding dress – I knew I wanted something different.
"I found a design that I really liked. "There's more than 70 circles in there – I can almost do them in my sleep now."
Faye and Marcus Howard, 32, tied the knot at their local registry at the weekend then celebrated with a big garden party in Midmar afterwards.
Guests were event given personalised festival wristbands to wear on the big day.
They tucked into a hog roast and craft beer from a local brewery and camped out overnight in tents.