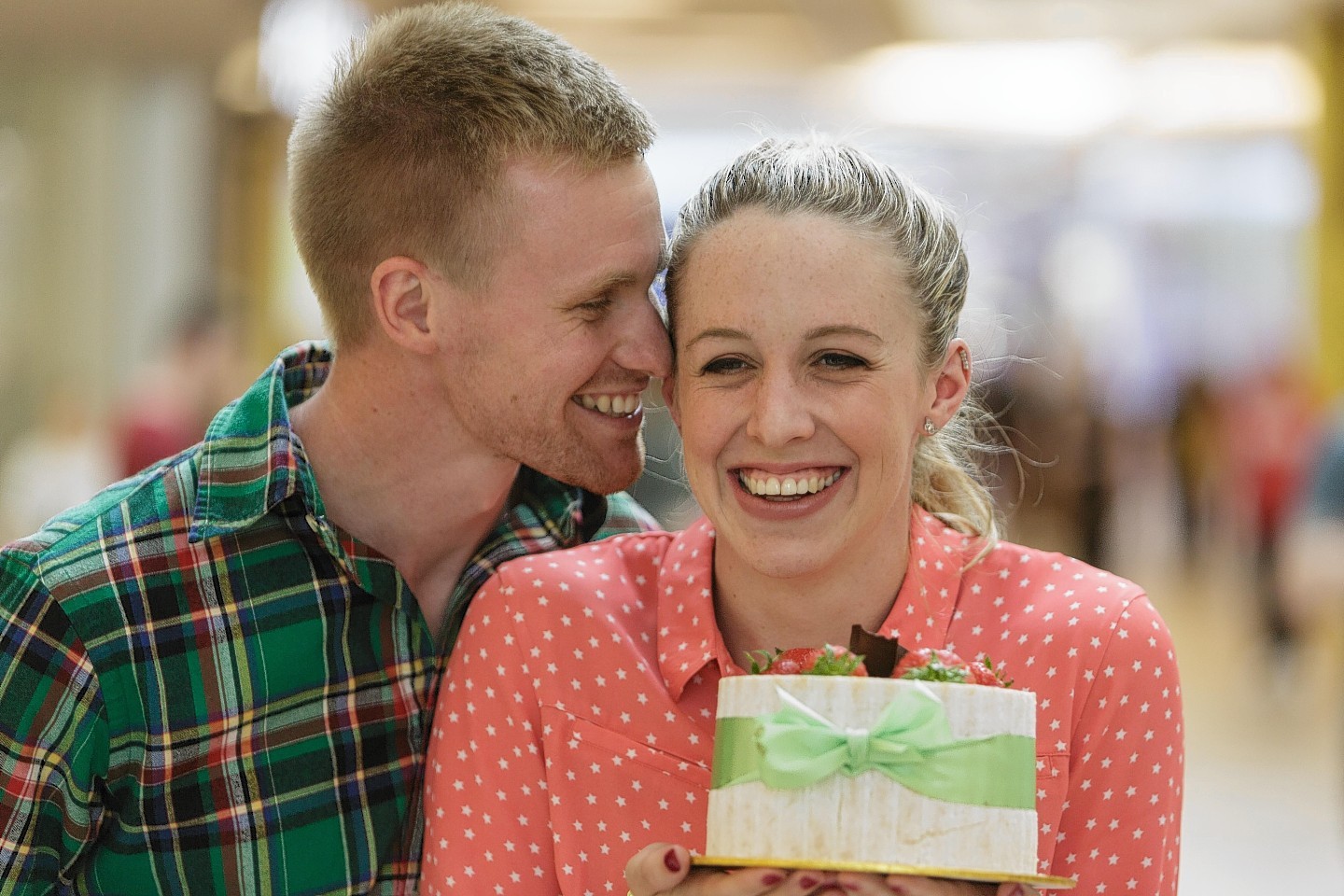 Smiley Hannah Miley has had a lot of success in her 25 years.
Her most recent was at last month's Commonwealth Games in Glasgow where she won a gold medal in the 400m individual medley and a bronze in the 200m individual medley.
But her achievements come at a price as she explained yesterday. Her medals, she said, make up for all the sacrifices her and her family have had to make – including not seeing her boyfriend for six months to train for last month's sporting event.
The 25-year-old was reunited with her partner, Ewan, this week when she returned to her home town of Inverurie. Yesterday they spent the day together to mark Hannah's 25th birthday and later had a family meal. The young athlete was also treated to a fashion spree and spa treatment at Union Square in Aberdeen.
Choosing between her career and doing things that many of us take for granted – like seeing your boyfriend on a daily basis – has become a regular thing for Hannah.
Her decision to "put her boyfriend on hold" followed her disappointment at her performances at last year's World Aquatics Championships and the London 2012 Olympic Games.
She said: "Last year I broke my hand and the World Championships didn't go as well as I wanted it to be and with London not going as well I really needed to prove something to myself.
"I had to distance myself from everybody and just isolate myself to ensure I gave myself every opportunity to get my training right. I thought it would be best to have time apart so I could focus on my training and it worked out pretty well. We are still talking so that was pretty good."
Hannah admitted that it was hard and it did test the relationship but when they were reunited it felt like they had only been apart for a day. She added that Ewan was very supportive of her decision
"And I'll always be in his debt which I'm sure he very much knows," she added laughing.
She said her family has also given up a lot to support her in her goals including giving up "being a normal family".
"My dad is a full-time helicopter pilot, my mum is a social worker, and my two brothers, one is at university and the other is at his final year at school so it's a very busy household but they still all have time to support me in my sport. My two brothers train and swim with me so they are great training partners and my dad – I don't know how he finds the time to coach me – his passion and drive for swimming is massive but we've all had to give up being normal.
"We've not actually had a proper family holiday where swimming hasn't been involved. So little things like that and it does take its toll and it can be really hard. But we always treasure those moments we do get of family time. We always make sure at dinner times we sit together as a family. So you know we never lose that family value but I am very aware that they have had to give up an awful lot and the stress and the pressure is huge.
"I hope one day I can take my whole family away and reward them for all their efforts. That's why winning medals is important because it allows me to have something to show for all the hardwork that they have given up as well. Bringing them along on my journey is just as rewarding."
Hannah said she has next year's World Aquatic Championships already in her sights and qualifying for the Olympics in Rio in 2016. But before training begins, she does have a bit of a break.
"I get to enjoy a couple of days of downtime seeing family and friends and kind of allowing myself to be normal for a couple of days," she said.
"Like today, I'm so excited, it's quite important for me, like picking out an outfit and looking normal and doing little things that I don't usually get the opportunity to do, it's quite nice.
"It keeps me grounded and brings me back down to Earth. It just reminds me that I am just a normal female trying to get her fashion sense right."