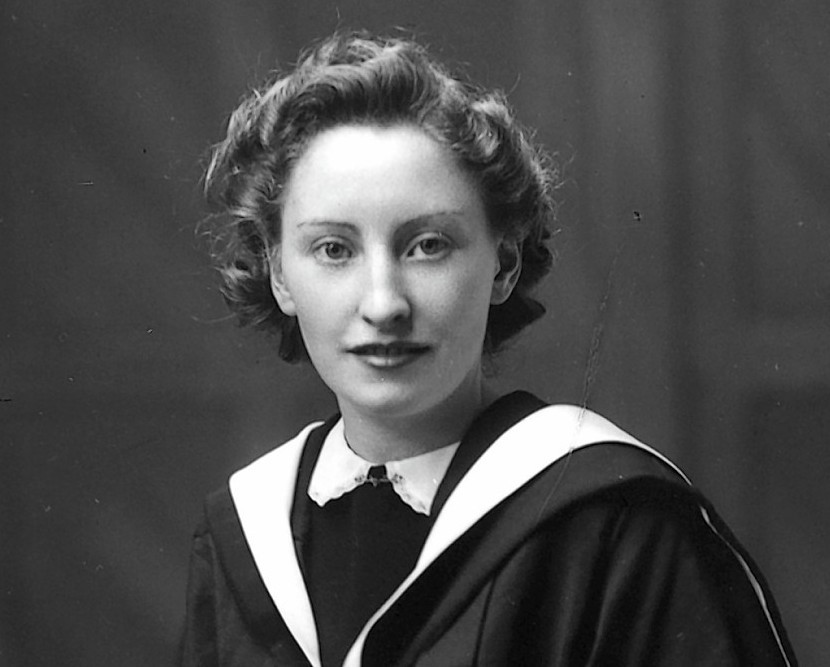 For 50 years Margaret Beedie was sworn to secrecy for her role in Britain's war effort – but when that time elapsed the modest islander still kept her lips sealed.
Working as one of the country's top minds at Bletchley Park, Buckinghamshire, from 1942-45, with scholars from the Government Code and Cypher School and MI6 formed just part of her impressive life.
Born Chirsty Maggie Mackinnon in Flodabay, the Isle of Harris, on April 26 1921 to John and Mary Mackinnon – Margaret moved to the mainland to stay with her brother Roderick in Nigg aged 10.
Roderick was a minister in the Highland village, and their sister his housekeeper, and Margaret attended the nearby Tain Academy before moving to Aberdeen to study for an MA in 1939.
It was here that she first met her future husband, James Beedie, of Aberdeen.
Following her graduation from Aberdeen University in 1942, the highly-intelligent Hebridean was invited to join the UK's crack team of wartime code-breakers In England – instrumental in securing a string of Allied victories.
At Bletchley Park, she is said to have worked in a room neighbouring Alan Turing – the mathematician and crypotanalyst who Churchill claimed made the single greatest contribution to the outcome of World War II.
Her son, Hamish Beedie, 58, said: "She graduated in 1942 and she went to the Foriegn Office, it was all very hush hush, and was invited to go off to Bletchley Park.
"But my Mum never, ever, ever discussed in those 50 years what she ever did during the war years because she was sworn to secrecy and she was very true to her promise.
"Even after 50 years she down-played her role and said 'we were one little part of the great cog'."
One memento of her time at Bletchley that she brought home was a distaste of Marmite.
Hamish said: "After she worked her night shift, her landlady would leave her Marmite sandwiches, ever since that, she never eat a bite of Marmite.
"She was invited to stay on after the war but she declined and she came back."
On returning to Aberdeen, she did further studies in teacher training, and – as Hamish puts it – "went off teaching" until her retirement.
Her first teaching jobs were at a school on Aberdeen's Frederick Street and at Sunnybank Primary School.
She married husband, James Beedie, on July 8 1947, at St Mary's Church, on King Street, where her brother, Roderick, had become minister.
Mr Beedie, now 93, also played a part in World War II, serving as a radio operator for the RAF in both India and Australia.
The couple had two sons, Hamish and David Beedie, born in 1956 and 1953 respectively.
Margaret returned to teaching in 1961 and got a job at Hilton School, specialising in English, French and Religious Studies.
Hamish added: "She also got a qualification in helping less-abled children, and she was responsible for looking after all the sick and injured kids.
"I think everyone thought she was her mother, she a very well though of teacher and the school, she wasn't a disciplinarian but could command the respect of her pupils."
Aged 60, she retired from teaching, but found a new passion in the great outdoors through the Midstocket Hillwalking Club, taking regular walks in the Grampians, and recording her journeys in walking journals.
She also remained actively involved in the church throughout her life.
Hamish said: "She was an active member of Beechwood Church for years and very despondent when it shut down, but she kept her faith fight to the end."
Margaret lived with James in the Midstocket area of Aberdeen since 1963, and kept in touch with her family in Harris all her life.
Through insurance adjuster, Hamish, she has two grandchildren, Alice and Seamus, who live with he and his wife, Jillian, in Tauranga, on New Zealand's North Island.
Alice is studying to be a ballerina at the New Zealand School of Dance, in Wellington.
Through David Beedie she has a two further grandchildren, Christopher and Pamela, and through the latter a great-grandson, Jay.
She died on July 24 2014, aged 93.