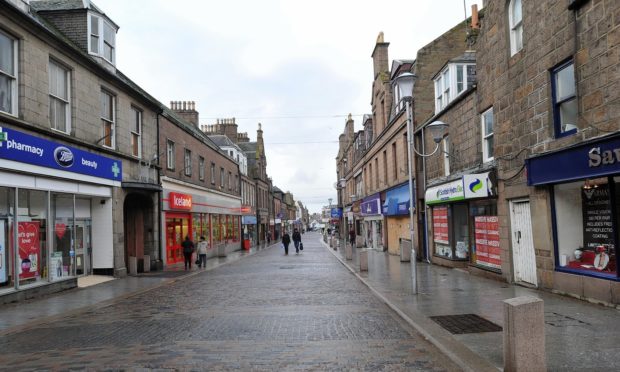 Retailers and council chiefs have held talks aimed at halting the drain of shoppers and new businesses from Peterhead town-centre.
Locals have blamed a number of issues for the falling interest, including antisocial behaviour and a shortage of parking spaces.
Heather Barclay, town centre project officer for Aberdeenshire Council, met traders to thrash out some of the difficulties.
Shop owners have been given a pledge that council officers will work with them to address antisocial behaviour and that new free parking will become available next year.
Another business forum meeting will be held next month.
Shop bosses said they were hopeful that the gatherings would lead to progress.
Kayleigh Taylor, who operates Heels and Handbags on Chapel Street, said she agreed with some of the concerns raised. She added: "Especially here, because there are two pubs either side of the shop, there is sometimes loitering and shouting.
"I think online shopping is our biggest competitor, though."
Angela Styles, who runs Hoyty Toyty on Back Street, said she hoped the local authority could find a solution – but admitted she had not personally encountered problems with antisocial behaviour or parking.
"I was expecting it when I first opened," she said.
"The only thing I've noticed is that we once found a needle outside."
Last night, a spokeswoman for the local authority said officers would continue to work with partner organisations on antisocial behaviour concerns.
She added: "Shop owners welcomed the news that when the new council headquarters are opened early next year, the car park will be open at weekends, free of charge."
The £5million new base is currently under construction at a site between Errol Street and St Peter Street.
The next meeting of the forum will take place on October 30. It will be open to all traders in Peterhead. A venue has yet to be announced.