An Aberdeen church has finally taken delivery of its new chairs – a month too late for its Christmas service.
Midstocket Parish Church ordered hundreds of replacement seats in July last year as part of a renovation project which started in January.
The congregation had been looking forward to making use of them during the busy festive season.
But as the big day drew closer, their minister, the Reverend Sarah Nicol, was told by the delivery company that the new furniture for the sanctuary would not be in Aberdeen in time for Christmas Day.
Now, almost 50 days late, the custom-built chairs have finally arrived, meaning members will be able to properly worship in the newly refurbished church for the first time.
Built with special attention to a church-goers needs, the colourful, bright-red seats come equipped with shelves to hold bibles and hymn books, and even little holders for glasses of communion wine.
Rev Nicol, who was inducted at Midstocket Parish in August 2013, said: "Obviously Christmas would have been a wonderful time for them to arrive, but it's better late than never.
"The new chairs are a little bit wider, and have been made to our specifications, so people have a place to store their bibles, and even their handbags if they need to.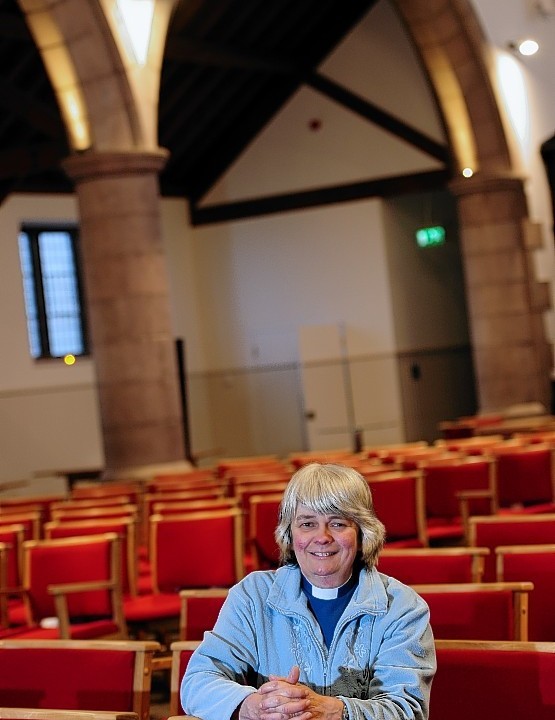 "But we haven't just got new chairs, – the whole sanctuary has had a paint job, it's much brighter, more cheerful, and we now have space for people to have tea and coffees after the service.
"We also have about three disabled people who come to our services regularly, and with these new chairs instead of the old pews they will have a lot more freedom to sit wherever they want and get closer to their families, instead of being stuck out at the ends. It gives them a lot more flexibility.
"It's a big space to heat up too, so we've also got under-floor heating underneath all of the chairs as well, which should help out on all these chilly days we are currently suffering through."
The first service is on Sunday at 10.30am, and everyone is welcome.