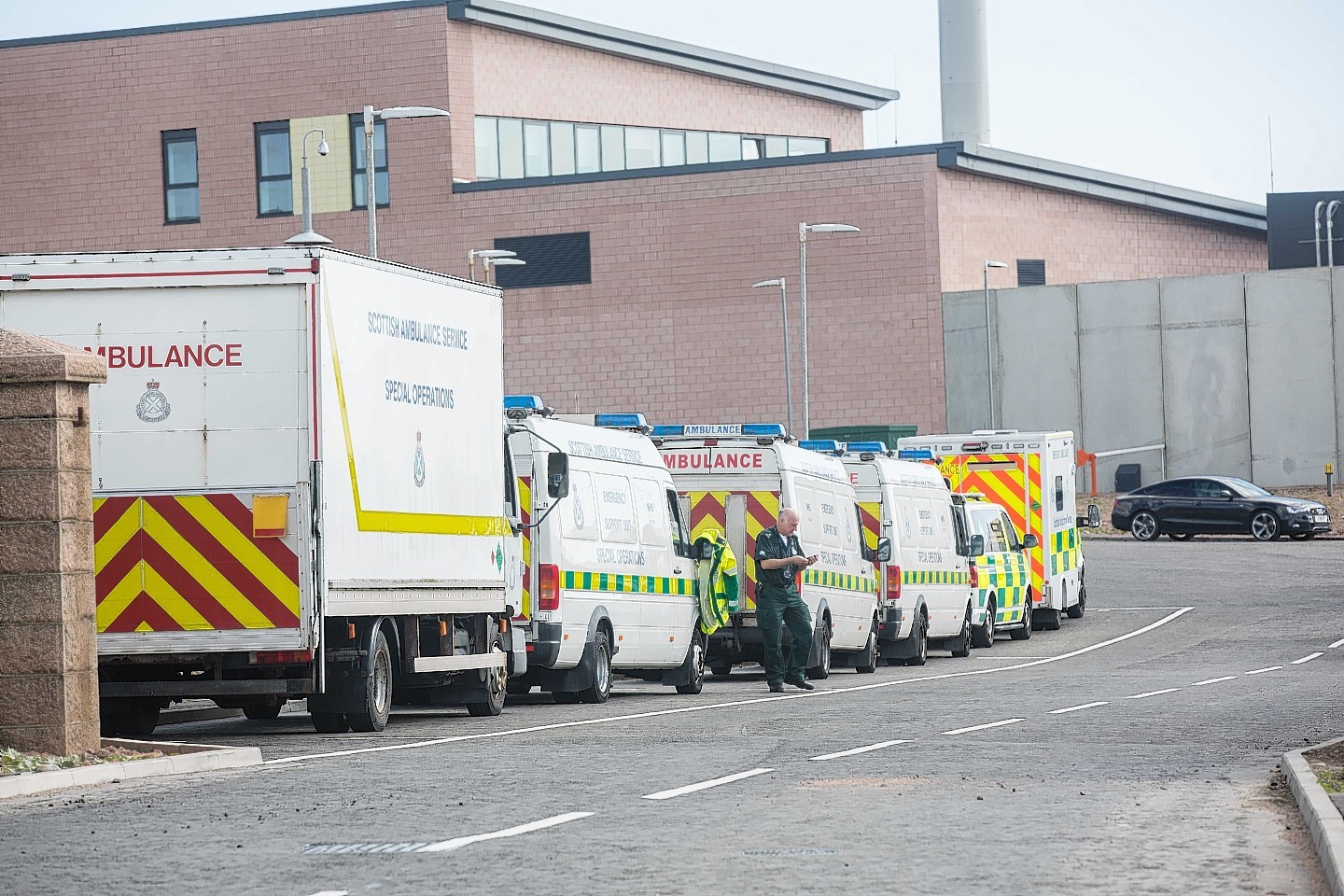 PROTESTING inmates went on the rampage and smashed up part of Scotland's newest jail during a tense 14-hour siege.
Nearly 40 prisoners barricaded themselves inside a communal hall at HMP Grampian in Peterhead.
The stand-off started at 8pm on Tuesday and continued through the night.
About 40 specialist prison staff, including negotiators, were drafted-in from across the country.
Police and other emergency services were also called to the complex in the town's South Road to provide back-up.
One source said that by the time the situation in the jail's Ellon wing had been brought under control "there was nothing left to smash" and a retired warder warned the new prison had already become a "powderkeg".
The fracas was finally brought to an end at 10.30am yesterday when prison officers in body armour stormed a sealed-off area and managed to subdue the ringleaders.
No one was injured.
All 39 inmates who were involved in the disturbance have now been transferred to other prisons.
The barricaded area, a cell block in the jail's Ellon wing for male offenders, was left extensively damaged.
The section is used to house short-term and remand prisoners.
A police investigation has also been launched, although no arrests have been made.
The trouble flared just days after prison staff wearing protective gear were involved in a two-hour stand-off with inmates in the same area of the jail.
It was one of at least three violent incidents at the new £140million prison since it opened in early March.
Prison bosses said the incidents were simply the result of "teething" problems.
Last night, veteran Peterhead Prison officer Jackie Stuart, who was held hostage during the infamous 1987 riots, said he was unsurprised by yesterday's unrest, which had echoes of the jail's bad old days.
And another retired prison officer, who lives close by, described the jail as a "powderkeg".
"They are mixing the wrong kind of people all together," he said.
"Things like this were bound to happened."
Justice Secretary Kenny MacAskill said the instigators of yesterday's disturbance would be identified and dealt with by the courts.
And he said he had "great faith" in staff at the jail.
Throughout the stand-off, dozens of police, paramedics and firefighters were placed on standby in the grounds of the prison, although they were not needed.
Yesterday morning, police visited nearby Burnhaven School to reassure pupils and staff there was nothing to worry about.
Last night, a spokesman for the Scottish Prison Service said: "There has been a considerable amount of damage caused to the area, although its too early to put a cost on this.
"It is wrong to call this a problem jail, but behaviour which has manifested here has been completely unacceptable."
The cause of the flashpoint has yet to be established, but it is understood trouble began when a small number of inmates started vandalising fixtures in the Ellon wing.
A police spokesman confirmed that officers remained at the jail last night and inquiries were ongoing. Police were called to the jail at 8.50pm on Tuesday.
The much-heralded HMP Grampian was built to replace antiquated Peterhead Prison and Craiginches in Aberdeen. At the time of yesterday's trouble, it held 388 inmates.
Before Peterhead Prison closed its doors to make way for the so-called superjail last year, the number of incidents behind bars had risen by 260%.
The surge in trouble started after the jail started taking in mainstream inmates last summer.
Before then, it was a specialist unit for convicted sex offenders from throughout Scotland.