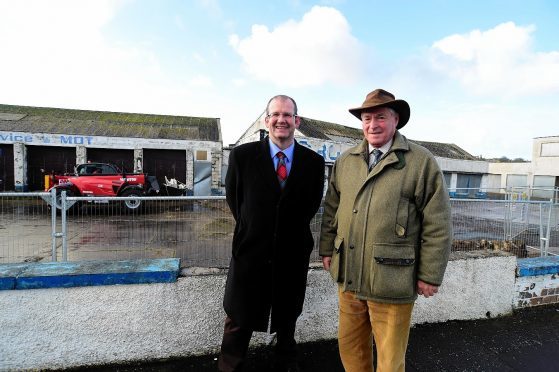 The demolition of an "eyesore" derelict building at the entrance to a north-east town has been heralded by local councillors.
The former Crown Motors building on Banff's Bridge Road was bought by supermarket giant Tesco as part of proposals to build a superstore in the town.
The site lay unused for years as negotiations between Tesco and the council dragged on but, earlier this year, a deal was finally struck. No supermarket will be built, but the firm will honour its commitment to help fund new sports and leisure facilities for Banff and Macduff.
Tesco also agreed to tear down Crown Motors, a move welcomed by community leaders.
Councillor Mark Findlater said: "I'm chuffed because this has been a long time coming and it is a visible indication to the people of Banff and Macduff that progress is coming.
He added: "It has been a priority to get these buildings down as well as new buildings up."
His thoughts were echoed by councillor Michael Roy who said: "These buildings have been a blight on the eastern approach to Banff for too long.
"This is a visible indication of the progress that's being made in the Tesco and Aberdeenshire Council saga."
Once Crown Motors' former buildings are torn down, the site at Bridge Road will be replaced with a small car parked and the surrounding area will be landscaped to make it more attractive for visitors.
As park of the supermarket land deal, an all-weather pitch will be laid in Macduff and in Banff and new community centre with accompanying sports facilities will be built.