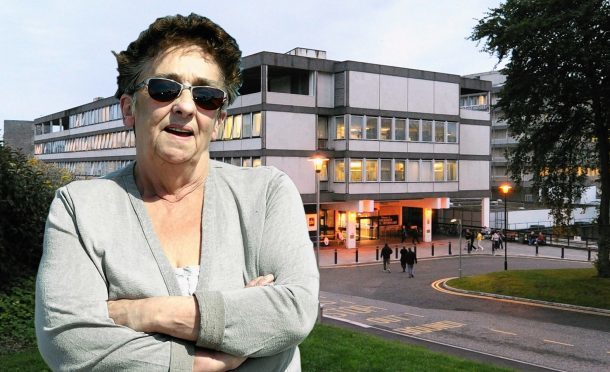 A north-east cancer patient left distraught by the suspension of her surgeons feared for her life when a crucial appointment to find out if the disease had spread was postponed for six months.
Diane Smith underwent an operation at Aberdeen Royal Infirmary in May after discovering the thyroid cancer she had battled twice before was back.
The 68-year-old was due to attend another appointment this month to find out whether the cancer had spread, if her medication was working and if she would need the specialist help of an oncologist.
But she was stunned to receive a letter from NHS Grampian telling her the appointment had been postponed until April.
The mother-of-three from Alford said: "By then, the appointment might be too late for me – the cancer might have spread."
The letter came in the wake of the suspension of her surgeons, Professor Zygmunt Krukowski and Dr Wendy Craig from the north-east's flagship hospital – both of whom she credits for saving her life
Mrs Smith has been diagnosed with cancer three times, and has been in the care of Prof Krukowski – The Queen's personal surgeon – for the past 26 years.
She said that neither NHS Grampian nor patients in the north-east could afford to lose him, nor Dr Craig, who discovered her cancer was back for a third time.
It has been nearly seven months since the pair were suspended from the health board after they raised concerns about management at ARI.
Politicians, staff and patients have been demanding answers as to how long the investigation into their conduct will last and when their fate will be decided.
Yesterday, neither NHS Grampian nor the General Medical Council would comment on what stage the process was at.
North-east MSP Lewis Macdonald said it was essential patients were not kept in the dark about whether their surgeon's would ever come back.
"The sooner this is resolved, the better," he said.
When NHS Grampian was approached by the Press and Journal to ask why Mrs Smith's appointment had been postponed for so long, within hours she received a phone call rearranging it for next month.
A spokeswoman insisted it had been an "isolated" incident.
She added: "However, the arrangements for all other affected patients are also being reviewed to ensure they are appropriate for the patient's individual circumstances."
Mrs Smith – who claims she asked on numerous occasions why she could not be seen sooner – said she feared she was not the only one facing "horrendous" delays for crucial appointments since her surgeons were suspended.
"As a patient, I not only want but also require that patients and staff are afforded the very highest standards of care and expertise and are treated properly," she said.
"My follow-up appointment has been significantly delayed, as I know other patients' appointments have. I am not sure if I will be treated by surgeons who have the necessary skills, training and experience to deal with my cancer best.
"Meanwhile, my surgeons are entering their seventh month of suspension.
"This is our health service. We, the public, have a powerful voice but our voice will not be heard unless and until we speak up."
The NHS spokeswoman said: "We are sorry that this has caused Mrs Smith so much anxiety, however we have been in contact with her and offered her an alternative appointment early next month.
"We have also offered to meet her to discuss the next steps of her clinical care in more detail.
"Every patient is important to us and we aim to ensure that alternative appointment arrangements are slotted in and communicated directly to patients as quickly as possibly to avoid further potential for distress."