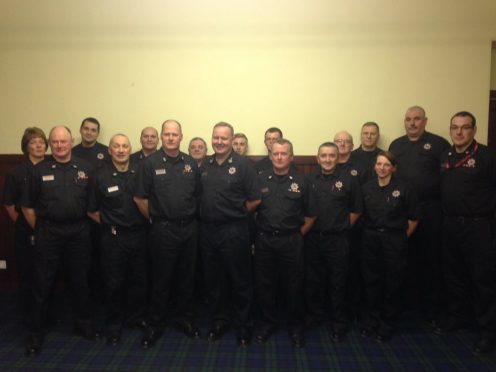 The Scottish Fire and Rescue Service's chief officer has visited the north-east to pay tribute to the crews who battled floods that devastated the region.
Alasdair Hay met with staff at Operations Control and Service Delivery North on Monday night, before joining deputy assistant chief officer Andy Coueslant at Ballater to meet with local senior officer for Aberdeenshire, David Rout.
During the storms, crews from Ballater Station helped flood victims before the station itself flooded.
Crews had to move their appliances to higher ground so they could continuing protecting locals and return to active duty.
The homes of several crew members were also badly affected by flood water, however it was only after assisting members of their community that they returned to their own properties.
Mr Hay said: "The Scottish Fire and Rescue Service exists to provide an emergency service to protect the people of Scotland.
"Our response to the recent flooding highlights our commitment to provide a first class emergency service to our communities.
"Our staff always put our communities first, which is highlighted by the extraordinary efforts of the Ballater crews who despite being affected by flooding themselves still wanted to help others.
"This is testament to the character and commitment of Scottish Fire and Rescue Service staff across the country."
He also highlighted the importance of Retained Duty System (RDS) firefighters to rural communities.
He said: "The vast majority of those who responded during the flooding were RDS firefighters and their contribution to public safety can't be underestimated.
"We are encouraging anyone who may be able to provide similar support to the communities in which they live by signing up to become retained firefighters."