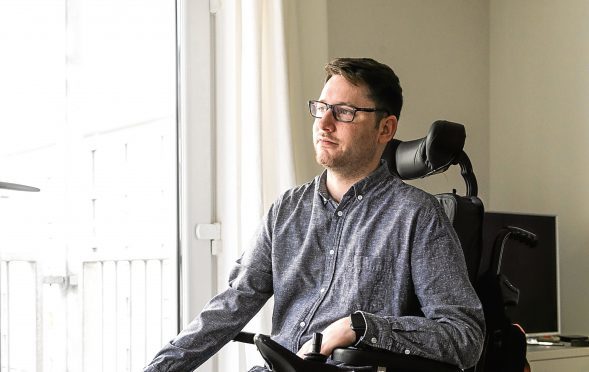 There have been plenty of headlines recently about well-known Scots being afflicted with severe neurological conditions.
The Labour Party activist and Better Together campaigner Gordon Aikman elicited cross-party support for the resilience he displayed before succumbing to motor neurone disease in January at the age of 31.
More recently, a TV programme about Moray woman, Lucy Lintott, who is fighting the disease at only 22, attracted global attention, while Scotland rugby star, Doddie Weir, has been diagnosed with MND and created a new foundation.
Yet, beneath these high-profile cases, there are more than 1,000 people across Scotland who are battling such conditions as MND, multiple sclerosis, Huntington's disease, stroke and acquired brain injury without appropriate support.
And a damning new report from health and social care charity Sue Ryder has found they are having to deal with inadequate levels of care in every part of the country.
The organisation's study, "Rewrite the Future", published today, has revealed that nine of Scotland's 14 health boards – including Grampian and Highlands – do not have a neurological services plan. Nor do they intend to develop such initiatives with their local health and social care partnerships, which have been fully functional since 2016.
Despite a push from the Scottish Government to provide more care in the community rather than hospitals, only five health boards and three of 32 local authorities provide community service for people with neurological conditions.
Without access to these specialist resources, Sue Ryder has highlighted that many people suffer needlessly and are unable to live their lives as fully as possible, while hundreds of others end up in old people's homes because they have nowhere else to go.
Pamela MacKenzie, director of neurological services in Scotland at Sue Ryder, is among those calling for a more integrated approach between local authorities and central government and the provision of more specialist care centres, such as Dee View Court in Aberdeen, which provides round-the-clock care to 24 residents at its Kincorth base.
Unfortunately, from Dr MacKenzie's perspective, it is the only such facility in Scotland. And, as the previous figures underlined, demand massively exceeds supply.
She said: "Neurological conditions can strike anyone, at any time, having a massive impact on them and their families.
"As well as coping with the financial and emotional burden, they also have to face a difficult struggle to get the specialist care they need whether in their own home or in residential care.
"Since our (initial) report last year, the Scottish Government has started to take action: it is now working on a project to find out how many people in Scotland have a neurological condition, so that services can then be designed to meet their need, and the clinical standards for neurological care are being rewritten, so that care is improved.
"However, at this stage, people with neurological conditions are not benefiting from integrated health and social care – there is very little meaningful, integrated specialist care and few plans to change this.
"To put that situation right, the Scottish Government needs to show leadership and put in place a strategy for all the health and social care services that people with neurological conditions need.
"Otherwise, they will continue to feel written off and that simply isn't good enough."
One of the key findings of the new report is that more people with severe neurological conditions are being placed in older people's homes in Aberdeen and Aberdeenshire than anywhere else in Scotland.
The current number for Aberdeen is 102, 22 of whom are under 65, while there are 89 in the Shire, 23 of whom have not reached retirement age. This compares with 53 in Edinburgh, 25 in Dundee, 13 in Moray, five in Shetland and six in the Western Isles. There were no figures provided by Highland Council.
Yet, as Dr Donald MacAskill, the chief executive of Scottish Care, explained, these statistics could be only the tip of the iceberg, such is the lack of detailed investigation by local authorities into the problem.
He said: "The research from Sue Ryder highlights that there are simply too many individuals who are living where they do not want to be and where, frankly, they should not be.
"There are few care homes which are geared up to the particular, specialist and challenging care and support required by many of the individuals with diverse neurological conditions.
"The continued expectation that the care home sector is currently equipped and resourced for specialist neurological care does a disservice, not only to the individuals and families involved, but also, critically, to the staff who work in care homes and other residents who live there.
"At its heart, this is an issue of human rights, dignity and autonomy. It is time for all stakeholders to recognise the system is not working."
As one might anticipate, there are some poignant stories when one peers under the surface.
Just consider the words of Thomas McGreevy, whose wife Dee, 56 – a former nurse – has a neurological condition and has been in an older people's care home for two years.
He said: "My wife's life has been reduced to a mere existence. I have long given up expecting any kind of miracle, but now Dee is in a room 24 hours a day staring at the four walls.
"Dee first became ill after suffering from headaches for a year and ended up having two brain tumours removed. She was paralysed and totally dependent on others for everything.
"I can't help feeling the system my wife devoted her life to has sadly let her down when she needs it most.
"The NHS is absolutely wonderful, but, every now and then, people fall through the cracks and they simply don't get the right care in the right place."
These words illustrate the problems which Dee View Court has managed to eradicate for a small number of people.
But patients with complex neurological problems and their families still face an uphill struggle.
The Scottish Government yesterday reiterated its commitment to tackling the situation.
A spokesman said: "We want to ensure that people living with neurological conditions have access to the best possible care and support.
"We will consider the findings of this report carefully as we plan neurological care services for the future.
"Our legislation to integrate health and social care has provided a platform for health boards and local authorities, along with third and independent sectors, to work together to plan for and deliver services to ensure people get the care most appropriate to them.
"The first minister announced in the Programme for Government the extension of free personal care to everyone under the age of 65 who requires it."
Carol gets confidence back with charity's support
Carol, 62, who lives in Bridge of Don in Aberdeen, suffered a stroke a year ago. Along with the physical effects of the stroke, her ability to process numbers and to read and write was affected.
She lost so much confidence she stopped leaving the house, even to go into the garden. The only activity she felt capable of was taking her dog, Pancho, out for very short walks.
When she met Sue Ryder's senior support worker, Stacey, for the first time, Carol said she was not prepared for everyday challenges, and as she did not feel confident enough to leave the house, she didn't feel part of her community. She did not feel worthy of help, believing "there must be other people out there who would need help more".
But, after spending a bit of time together, Carol decided she wanted to focus on getting out during the day, go to see the school nearby being built and walk to the Sterling furniture store for a coffee.
With Stacey's support, Carol went for short walks, gradually building up her strength and confidence. She managed to travel a bit further every week and when she made it to the shop, she couldn't believe it.
Along the way, she received her personal independence payment (PIP) benefits form and was anxious about completing it because of the impact the stroke had on her ability to read, write and deal with numbers.
However, after being introduced to Cash in your Pocket, an Aberdeen-based charity which helps people with financial wellbeing, Carol got her form completed.
Gradually, she started going into her back garden and having a look around. Then, one day, she found herself sweeping up, and digging out old flower beds: she now has four lovely plants to show off.
North-east figures worst in country
The new Sue Ryder report has obtained confirmation, through a freedom of information request, that nearly 200 people with serious neurological conditions in Aberdeen and Aberdeenshire are living in care homes for older people.
The figures are highest in Aberdeen, with 102 people – of whom 22 are aged under 65 – placed in older people's facilities.
That is 44.4 per 100,000 inhabitants, the most of any area which provided figures.
In Aberdeenshire there are 89 – 23 aged under 65 – which is 34 per 100,000, the third highest.
Elinor Jayne, policy and public care manager for Sue Ryder, argued it was time for an overhaul of government and council strategy.
She said: "There is a huge need for specialist neurological care, whether it be at home or in care homes.
"We think the Scottish Government needs to review what is available across Scotland to assess the best way forward with regard to residential care but it appears to us that there is both a need for specialist centres such as Dee View Court in Aberdeen and also better specialist support for people with neurological conditions who are in older people's care homes.
"The whole public sector is under huge pressure so in many ways it's no surprise the NHS and integration authorities are focusing on tackling the big problems such as older people's care and trying to keep people out of hospital.
"However, people with neurological conditions are at risk of falling through the gap."
The two councils admitted there were occasions when they had no option but to put individuals with neurological conditions into older people's homes. Adam Coldwells, chief officer for Aberdeenshire Health and Social Care Partnership, said: "We strive to ensure people are placed in the most appropriate setting. Where possible, we provide care to people in their own homes. On occasions, we are required to use care homes to provide that appropriate care. As much as possible, this is a temporary situation."
An Aberdeen City Health and Social Care Partnership spokesman said: "We await the publication with interest and will review it in terms of how we configure our services in the city."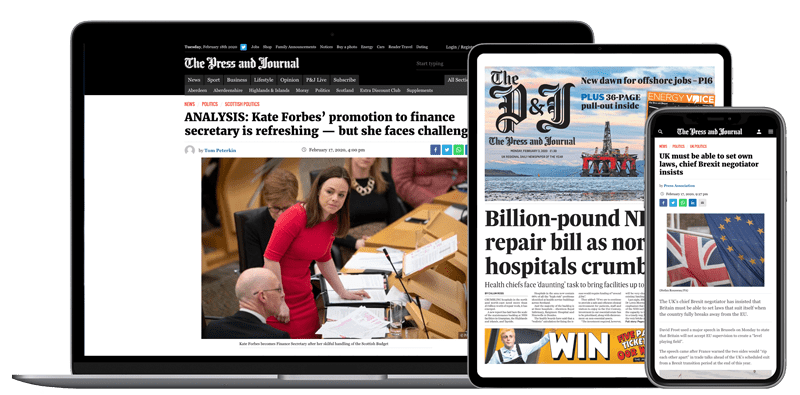 Help support quality local journalism … become a digital subscriber to The Press and Journal
For as little as £5.99 a month you can access all of our content, including Premium articles.
Subscribe