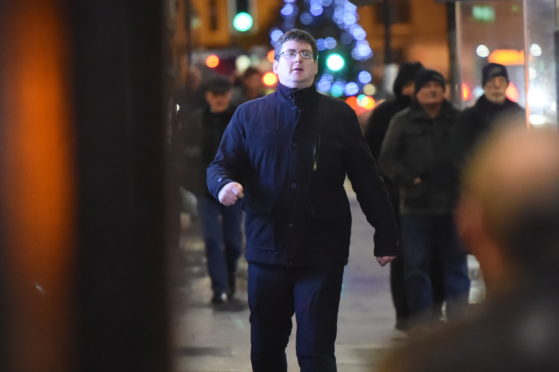 A man has been found guilty of causing a disturbance at the constituency office of Aberdeen South MP Ross Thomson.
Callum Purdie, whose social media accounts detail his support for independence and being a member of the "yes family", approached the premises on Holburn Street on June 7 and, again four days later, and repeatedly rang the door bell, banged on the window and tried to open the door.
He was detained by police and released from court with an order not to make any further contact with the office.
However, he subsequently rung the office and attempted to discuss political issues with staff member – and Aberdeen councillor – Ryan Houghton.
Purdie had denied causing the disturbance and went on trial at the city's sheriff court yesterday.
The court heard from Katie Frank, the office manager who was present during both disturbances.
She described the first incident: "I noticed somebody was outside.
"He was rather belligerent and insistent.
"I looked him up on social media, he had called prior to June 7.
"He was on the window banging as well. It was rather loud."
She said he remained there for 15 to 20 minutes before leaving and they called the police afterwards.
Fiscal depute Lixia Sun asked her: "Why did you not just talk to him?"
She replied: "Previous conversations with him on the phone had been about no constituency issues, they were about things to do with Brexit.
"We could have dealt with constituents with housing or immigration issues."
She added that, following the murder of MP Jo Cox, security had been tightened and they were ordered to contact the police even for non-criminal events.
But representing Purdie, defence agent Iain McGregor attempted to have the case thrown out.
He argued that his client had been a "nuisance" but had not caused fear or alarm.
He said: "There is nothing verbal from the accused, no threats made."
Sheriff Philip Mann asked him: "You rightly suggest we have to look at all the circumstances.
"Would those circumstances include the unfortunate events surrounding Jo Cox?"
He repelled the motion and found Purdie, of School Road in Stonehaven, guilty of the charge.
Purdie had already confessed to breaching bail by ringing the office.
Ms Sun asked for a non-harassment order which would forbid him from approaching the office again and Sheriff Mann deferred sentence on Purdie in order to consider this.
He said to him: "It seems to me this has arisen out some divergence of political opinion and it looks to me as if it has been overzealously pursued.
"If you accept that, take the message, otherwise there is a very high possibility you will be appearing in court again."
The 38-year-old will be sentenced next week.
Speaking after the outcome, Mr Thomson welcomed the decision.
He said: "My staff work hard to provide a good service for the constituency in Aberdeen South.
"I welcome the decision made today.
"Someone with a different political view who was not a constituent tried taking things into his own hands and it is good the court has decided that was not appropriate.
"My staff do not have any views on Brexit or independence."