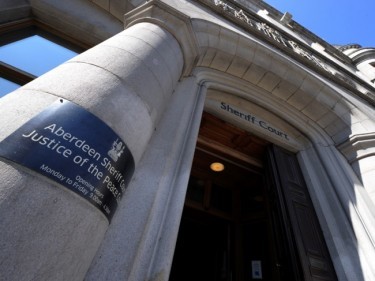 A man has been fined £550 for assaulting his partner after a night out and being found guilty of other offences.
Alan George Brown, 49, appeared at Aberdeen Sheriff Court yesterday, and pleaded guilty to assaulting his partner, trying to contact her when he was not allowed, and being caught with cocaine in his possession.
Brown had been out drinking with his partner in Ellon town centre on April 21.
They got into an argument and took separate taxis home.
But he subsequently grabbed his partner by the face and pushed her down onto the bed.
In trying to fend off his attack, she scratched his face, pushed him off, and left the room to call the police.
When police arrived, they found Brown in the garage with a "visible scratch".
Fiscal Christie Ward said: "His partner also directed officers to a small bag of white powder in his possession, which she believed to be cocaine.
"After tests, it was found it weighed 0.7g and was worth around £30."
Defence agent Lynne Freeland, said: "He is a mature man who entered the court at a late stage and wishes to apologise for his behaviour.
"He describes the relationship as somewhat volatile, she could have been unpredictable.
"She had become possessive and didn't want him showing attention to other woman."
She added that his relationship with drugs was "purely experimental."