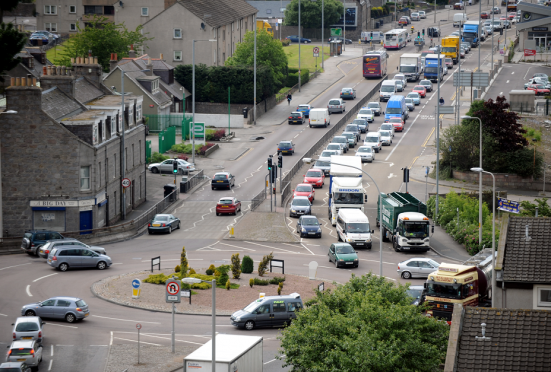 A man who got behind the wheel while high on ecstasy crashed his van into several parked cars during an hours-long rampage across Aberdeen. 
Geoff Wood crashed his white Ford transit van into seven cars and narrowly avoiding knocking down a cyclist on September 10, after taking the Class A substance.
He was spotted at the Co-op in Bucksburn at 6.30am that day, where a witness found that one of the lights on his Audi had been smashed by Wood's van.
The 25-year-old sped past a cyclist on Victoria Road in Dyce 30 minutes later, hitting him with one of his van's wing mirrors.
Wood then drove toward the cyclist at speed – forcing him to take "evasive action" to avoid being struck.
Aberdeen Sheriff Court heard yesterday that Wood continued driving erratically for the next two hours.
He struck an Audi Sportback then a Ford at the Haudagain roundabout.
While passing Woodside Primary School, the accused banged his van into a Peugeot 308 Coupe Cabriolet and narrowly avoided running over its owner.
Fiscal, Sally Macauley, said that when he approached the woman to make sure she was OK, "blood splatters from his face" landed onto her jacket.
The fiscal added: "The woman advised him that she would call the police, and the accused drove away."
While police scrambled to find the white van, having received multiple reports about it, Wood reversed into a taxi carrying two passengers on North Anderson Drive.
He smashed into another car on the same road, before reversing into a Ford Focus Hatchback on Springhill Road.
Police collared Wood on Mayfield Terrace at 9am, and found that he had broken his nose.
Ms Mcauley said: "Wood refused to leave the van and, in the process of dragging him from the vehicle the accused kicked out, striking an officer."
Upon inspection of Wood's car, the officers found two knuckledusters and 10 ecstasy tablets.
The accused pleaded guilty to colliding with vehicles and not providing details, driving without a proper licence or insurance and driving while under the influence, behaving in a threatening manner, and carrying an offensive weapon.
His lawyer, Katrina Clark, said he was "extremely disappointed with his behaviour".
Wood, of Alexander Street in Fife, had been in Aberdeen to work on various roofing jobs.
Sheriff Morag McLaughlin banned him from driving for four years, and jailed him for 18 months.