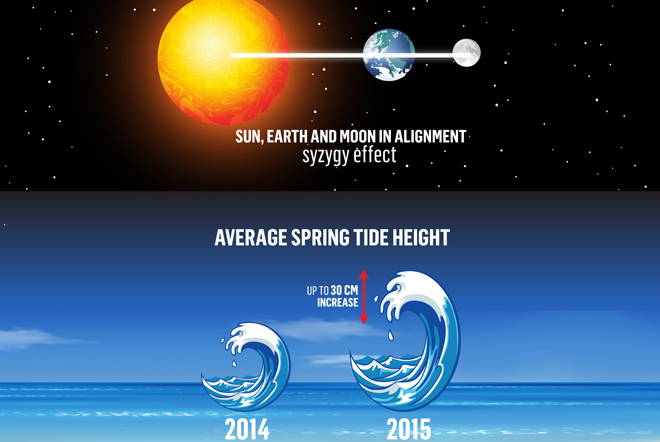 A rare alignment of the sun, earth and moon could mean a whole year of high tides and floods around Scotland's coasts.
The rare astronomical phenomenon – called the syzygy effect – results in a much higher gravitational pull on the Earth's oceans which can lead to "supertides".
It happens once every 18.6 years, and in 2015 the tides are expected to be at their highest during the two equinoxes on February 20 and 21 and September 29 and 30.
Tides are usually at their highest in spring, but with the addition of the syzygy effect they are expected to increase by up to 12 inches around Scotland, depending on factors such as the geography of the shoreline, and the contours of the ocean floor.
The Scottish Environment Protection Agency (Sepa) has warned that the risk of flooding is at its highest since 2012 in areas such as the Moray Firth, Wick, Aberdeen and Leith.
Sepa statistics also revealed that the number of high tides above the normal threshold would be more frequent this year across the same areas – with Aberdeen the most dramatically affected.
The city had 14 tides above the threshold in 2014 – and 21 are predicted this year.
A Sepa report said: "Because tides will be generally higher over the next year, this means that higher than average tides will occur more often.
"This does not mean however that communities will flood more often, but there will be a higher risk of prolonged and periodic disruption.
"Sepa is fully prepared for these high tides and other sources of flooding in the upcoming year.
"We continuously monitor meteorological systems and we will issue alerts and warnings if there is a risk of coastal flooding to specific communities."
Dr Jason McIlvenny, a researcher at the University of Highland and Islands' Environmental Research Institute, said: "The high astronomical tides will not cause coastal flooding alone around the Scottish coastline unless combined with the effects of storm conditions.
"Storm systems can cause an increase in water level known as a storm surge, which can elevate the normal tidal height as much as 1.5 metres (5 feet).
"In contrast to this the upcoming astronomical tides will increase the average spring tide height by up to 30 centimetres (12 inches), however most places will increase by only 10-20centimetres (four to eight inches).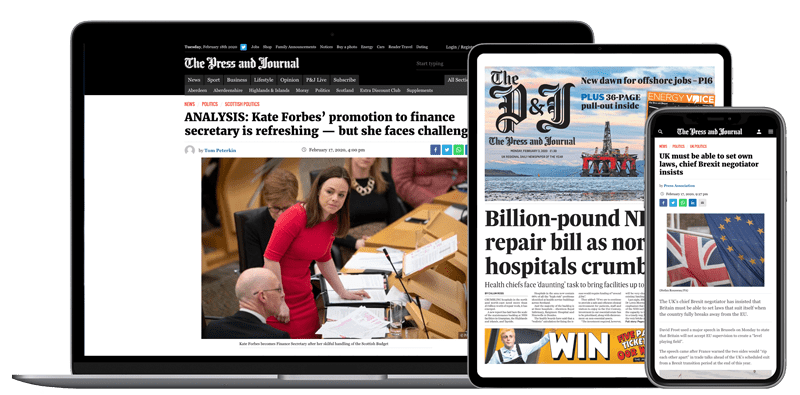 Help support quality local journalism … become a digital subscriber to The Press and Journal
For as little as £5.99 a month you can access all of our content, including Premium articles.
Subscribe