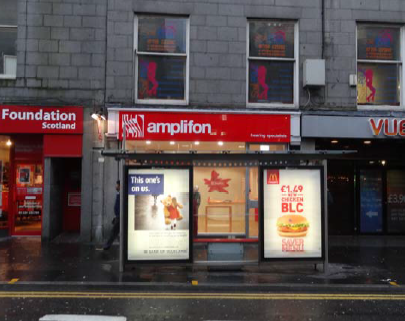 Owners of a Union Street shop have lost an appeal against an enforcement decision from Aberdeen City Council over illegal advertising.
Hearing aid specialists Amplifon took their case to the Scottish Government after the local authority said that a sign above the store window had to be removed.
Council legal officers said the firm did not have permission to erect the red and white sign at 33 Union Street, next to a side entrance to the Vue cinema.
Amplifon had contravened advertising regulations under the Town and County Planning (Scotland) Regulations 1984, it was argued.
The company, which leases the premises, appealed on the basis that the enforcement notice had not been served properly.
A submission to the government's department of planning and environmental appeals, also said the sign was "less intrusive and garish" than the one at the British Heart Foundation shop next door.
The company added: "We have made great effort with regard to ensuring we follow correct protocol set out by the council."
However, in a report published yesterday, Scottish Government-appointed reporter David Russell has dismissed the appeal.
Mr Russell said that Amplifon did not provide any evidence that there was a failure to serve the enforcement notice. He added that he could not uphold the appeal on the basis that the sign would have been acceptable had permission been in place.