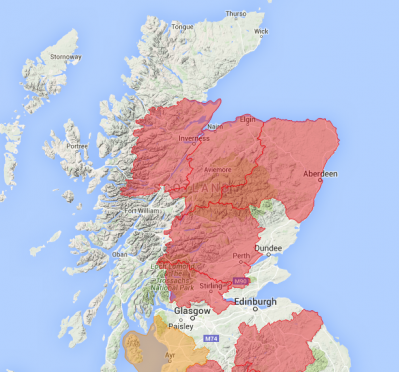 Scotland-wide flood warnings have been issued by an national environmental protection body for the rest of this afternoon and Christmas Day as heavy rains sweep across the country.
The possibility of flooding has been raised in Aberdeenshire and Aberdeen City with flood alerts declared across the regions, but Ballater in particular has been highlighted by the Scottish Environmental Protection Agency as an area at risk of flooding, and has issued a flood warning to those living in the town.
A SEPA statement said that homes and properties close to the river in Ballater are at risk: "The River Dee has reacted to overnight rainfall in this area and is ecpexted to peak around 9am. Water levels are expected to remain high throughout the day.
"Low lying areas adjacent to the River Dee, including the caravan park and the properties at the lower end of Dee Street, may be at risk of flooding. "
SEPA also said that the high rainfall in the highlands could also affect those living further down the river, towards the coast in Aberdeenshire and the city: "River levels on the upper Dee and rivers in southern Aberdeenshire are very high.
"They will fall during Thursday but there remains a risk of localised flooding. High tides around midday Thursday could elevate river levels in tidal reaches of the Dee for a time."
Meanwhile, flood warnings and alerts have also been issued for much of Moray and the Speyside areas, as well as parts of the Highlands.
Areas affected include Elgin, Forres, Aviemore, Nairn, Duffotwn, and towns close to Inverness.
The SEPA report stated: "Following heavy overnight rain levels in the Spey are very high. Flooding to low lying land is likely. Levels have started to drop on Thursday morning in the upper Spey but downstream will continue to rise before peaking later on Thursday."
Kingussie and Newtonmore were highlighted as areas particularly at risk.
The SEPA report continued: "Heavy rainfall overnight has caused river levels to rise. Rainfall is forecast to continue through the early ours of the morning on Thursday Decmeber 24.
"Agricultural land is at risk of flooding along the Spey Valley between Newtonmore and Kingussie. Low lying properties and access routes in Kingussie may also be at risk of flooding."
And a flood warning has also been issued for Easter Ross and the Great Glen, with SEPA calling for those in Strathglass to take immediate action to avoid the flooding.
The SEPA report stated: "Agricultural land in Strathglass is at risk of flooding. An Updated Flood Warning will be issued if river levels continue to rise and there is a risk of more widespread flooding.
"Rain is expected to continue over the next 12 hours with further accumulations of between 5 to 10 millimeters (0.3 inches)."
Rainfall is also heavily affecting the borders, Tayside and central belt of Scotland.
David Faichney, duty hydrology manager at SEPA, said that the foul weather is expected to continue through Christmas Day: "Showers will then follow throughout Christmas Eve, turning wintry over the higher ground, before becoming confined to the far north and Northern Isles on Christmas Day.
"More persistent rain, preceded by snow over hills, is expected to spread from the south later on Christmas Day.
"Current rainfall forecasts for Friday evening could give rise to significant flooding in some parts of southern Scotland on Saturday (Boxing Day), however as forecasts that far ahead remain uncertain as to exactly where and when the heaviest showers will fall, the likelihood of flooding impacts is very low.
"Surface water will continue to be an issue throughout the festive period, with roads and urban centres likely to experience disruption."
For more information call SEPA's Floodline number 0856 988 1188.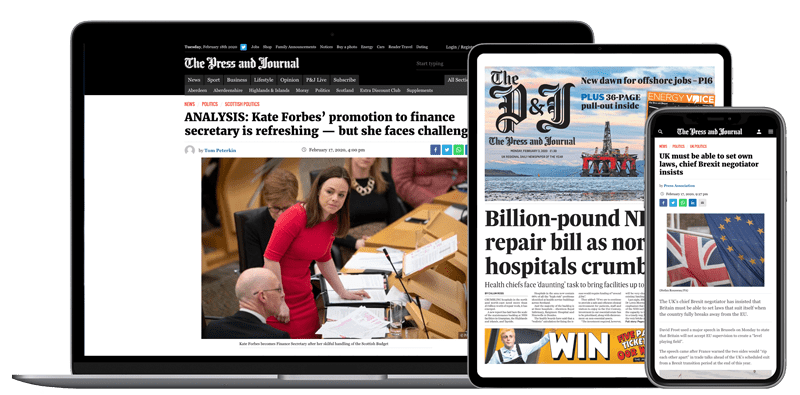 Help support quality local journalism … become a digital subscriber to The Press and Journal
For as little as £5.99 a month you can access all of our content, including Premium articles.
Subscribe