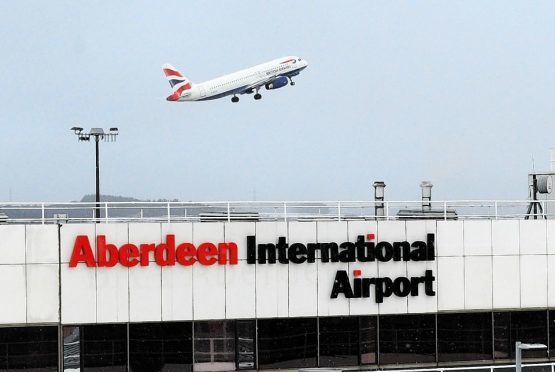 More than 100 passengers were delayed when a traffic cone became lodged underneath a plane at Aberdeen Airport.
The British Airways BA1315 flight was due to leave at 7.25pm, and travel to Heathrow Airport in London.
But airport safety inspectors were forced to ground the flight for nearly two hours while engineers inspected the aircraft.
Airport staff had to usher 120 passengers from the plane back to the terminal building to wait until the safety checks had been carried out.
According to one passenger, the pilot said "he's never seen anything like it".
Joe Churcher was waiting to meet his girlfriend at Heathrow, as she was a passenger on the flight.
He took to social media website Twitter to describe the incident.
He wrote: "BA flight grounded – by a traffic cone! Weight of passengers and luggage apparently dropped plane on to misplaced cone which damaged engine."
Aberdeen International Airport bosses confirmed a flight had been delayed but were unable to go into the circumstances which had caused the incident.
Fraser Bain, duty manager at the airport, said: "Passengers were taken back to the gate to wait for a short period of time and then they were re-boarded.
"The flight was airborne just before 9.30pm."
British Airways has apologised for any inconvenience caused.
A spokeswoman for the airline said: "The safety of our customers and crew is always our top priority.
"Our highly trained engineers inspected the aircraft before it continued on its journey.
"We are sorry for the delay to customers' travel plans."