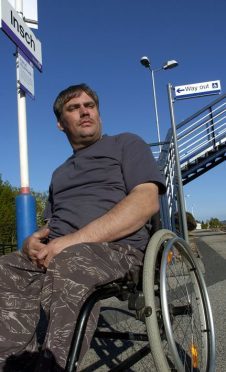 A disabled man has hailied the news of a feasibility study into access at an Aberdeenshire station as "long overdue" after totting up two decades of campaigning.
Members of the Nestrans board unanimously agreed to commission a feasibility study to improve disabled access at Insch train station this week.
A report, which was considered by the board, said the stop is "currently non-compliant" in terms of disability legislation.
Insch resident Mark Duncan, 51, who has been confined to a wheelchair since being involved in a car accident as a baby, has been campaigning for disabled access at the station for two decades.
He said: "I really hope that this time something is done, I have been pushing for this for more than 20 years.
"I'm pleased that they are finally looking into it – there is no way I can get over to the other platform without climbing over a field and a fence – it's just not possible."
Mr Duncan explained that if he wants to use the train he currently has to drive to either Huntly or Inverurie.
Bennachie community council committee member Wally Rhodes also welcomed the news.
He said: "We have approached the council several times about disabled access, but were recently told that the multi-million pound rail improvements currently being carried out on the line do not include any upgrades for Insch.
"The last report showed passenger figures for the station at around 218,000 annually, so we are hardly a backwater station.
"I'm glad that they are finally looking at it, but perhaps other options could be considered such as a long ramp similar to the one at Leuchars."
Currently travellers with mobility issues cannot access the westbound platform at Insch station because it is reached by an over-bridge with stairs.
Councillor Peter Argyle, who chairs the board, said: "It's not acceptable to have a station in the 21st century which a substantial amount of the population find difficult to access.
"I do feel we should try to do what we can to push that forward."
The feasibility study, which is likely to cost £25,000, would see if any cost-effective solution is possible and could be conducted by a suitable consultant, in partnership with the rail industry.