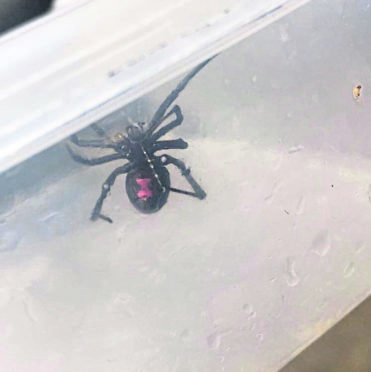 A highly venomous spider that had stowed away inside a crate bound for the north-east has been destroyed.
The potentially deadly black widow spider was "put to sleep" by the Scottish SPCA today after it became apparent there was nowhere in the country to safely rehome it.
The fear-inducing spider was spotted by employees at an unnamed firm based in Portlethen, on Thursday morning.
They placed the spider, characterised by its distinctive red hour-glass markings, in a container until the Scottish SPCA came to collect it.
Last night, Chief Superintendent Mike Flynn, from the charity, confirmed they had put it down for safety reasons.
"We were alerted to a black widow on Thursday after it was found in a crate from America," he said.
"Bites from the black widow can be dangerous to humans and can cause severe muscle pain and muscle spasms.
"Sadly the spider had to be put to sleep as there is nowhere in Scotland to safely re-home it and we could not keep it in our centre due to severe health and safety concerns."