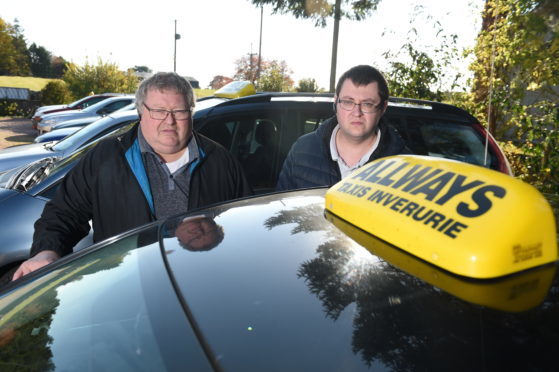 Taxi firms have criticised Aberdeenshire Council's "shambolic" new system for tendering school transport contracts.
The local authority spends about £13million on school transport every year, and has recently upgraded the tender process for taxi and bus contracts.
But two firms have now separately complained about the way the council dealt with additional support needs (ASN) transport contracts.
---
>> Keep up to date with the latest news with The P&J newsletter
---
They raised concerns about a deleted database, e-mails being sent out containing sensitive information about children and incorrectly worded questionnaires.
Laurencekirk-based operator Stewart Wight said last night: "It would be complimentary to say it has been shambolic.
"First we were all invited in for training on the new system, then we were told there had been told to stick with the old system because all the database had been deleted by accident.
"They didn't have back-ups so had to input it all by hand again."
Correspondence seen by the Press and Journal tells suppliers that a "a considerable technical error" had caused the deletion of the entire manifest database.
Mr Wight also raised concerns about an e-mail that was sent out to the successful bidder – before they had agreed to take on the work.
He claimed: "They also sent out sensitive information about the children involved along with the successful tenders – but they should have waited until the tenders were accepted and signed by those firms. An e-mail came out later reminding us not to disclose any of the information – I think they had realised their error and were trying to cover their own backs."
But Aberdeenshire Council last night said the reminder had been sent out as "standard procedure" and denied any data breach.
A spokeswoman for the Information Commissioners Office (ICO) was last night nable to confirm if a data breach had been reported.
Mr Wight believes the new system is unfair, and was backed by Inverurie-based Allways Taxis – who says they have missed out on around £24,000 of school contracts due to the council's blunders.
Mr McKay said: "We were not invited or notified of the tender for the latest ASN contract – we only heard about it after another taxi firm told us about it.
"It's a complete farce, we joined the new DPS scheme thinking it would automatically inform us when a tender came out."
An Aberdeenshire Council last night insisted the new system had been designed to create competition to ensure the authority gets best value.
A spokesman said: "The new approach to tendering for contracts has been established to ensure as much competition as possible and to allow suppliers to enter their details and bids via an online platform.
"While there have been some initial delays, the majority of suppliers have been able to complete this process successfully.
"We are sorry to hear some companies have found the new processes challenging but will continue to offer advice and support to those offering services to the council."