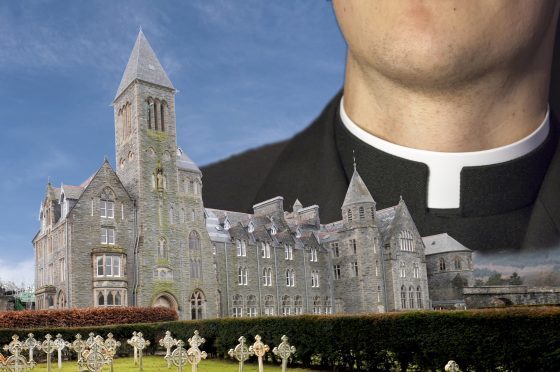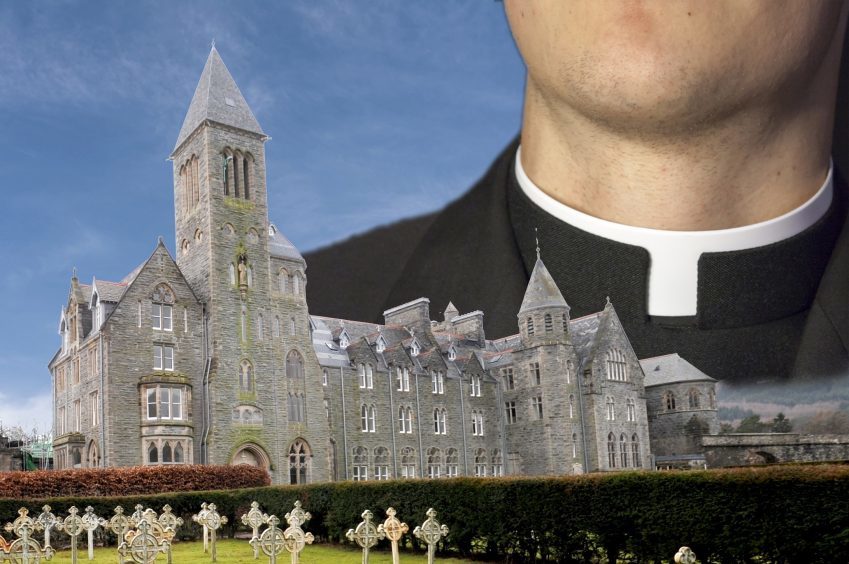 A former priest who taught at a Highland school has denied a string of brutal assault charges against his pupils using weapons including a spiked golf shoe and a hockey stick.
Father Benedict Seed, 83, will go on trial next year accused of assaulting eight boys over a 14-year period at Fort Augustus Catholic School in the 1970s and 1980s.
The incidents are alleged to have happened between June 1974 and July 1988 when Father Benedict, whose real name is Thomas Seed, was a chemistry teacher and headmaster at the Roman Catholic school.
Seed, of North Brora Muir, Brora, in Sutherland, stood in the dock of Inverness Sheriff Court yesterday to confirm his name and his solicitor, Claire Russell, said that he denied all charges.
His trial was due to begin early next month, but Ms Russell and prosecutor Roderick Urquhart asked for it to be adjourned for procedural and technical reasons.
Seed will now be judged by a jury in Inverness on January 23 next year.
Miss Russell said she needed more time for further investigation and witness matters to be resolved.
Mr Urquhart joined in her motion for an adjournment, telling Sheriff Margaret Neilson: "One of our witnesses lives in Hong Kong and we want to set up a video link for evidence.
"It requires six to eight weeks to set up a link."
Seed denied eight charges of assault to injury.
It is alleged he assaulted Sean Stone, then aged 12-13, by throwing him to the ground, striking him repeatedly on the head, shouting and screaming at him, instructing him to bend over a desk while another pupil held him down and repeatedly striking him on the body with a cane.
Seed is also accused of assaulting Clark Baxter, then aged 12-14, instructing him to remove his clothing down to his underpants and repeatedly striking him on the body with a belt, a cane and a spiked golf shoe.
Another two charges claims that Seed repeatedly struck Michael Mungavin, then aged 11, on the body with a cane; and that he dragged Paul Curran, then aged 14-15, from his bed, into his study and repeatedly struck him on his hands and wrists with a tawse.
Seed is also accused of repeatedly striking Dennis Kiwanuka, then aged 14-18, on the hands with a ruler, striking him on the buttocks over his clothing and his bare buttocks with a cane.
He is also charged with repeatedly striking Antonio Fassone, then aged 16-18, on the hands, wrists and forearms with a tawse and repeatedly struck him on the buttocks over his clothing.
Seed allegedly pulled Felix Lavery from his bed and repeatedly struck and kicked him on the head and body, and repeatedly struck him on the body and private parts with a hockey stick.
He is also accused of repeatedly kicking Mark Horn on the body, causing him to fall down a flight of stairs.
The former Brora priest was a monk teaching chemistry at the Roman Catholic School before moving to the Sutherland area when it closed in 1999.
Born in Duns, Berwickshire, he joined the monastery in 1950 and remained a member of the community there for 49 years, serving as house master and also head master there.
He completed his theological studies in Rome and was also a graduate of St Andrew's University.
Sheriff Neilson fixed another hearing for November 22 to establish the readiness for trial. Seed had his bail continued.