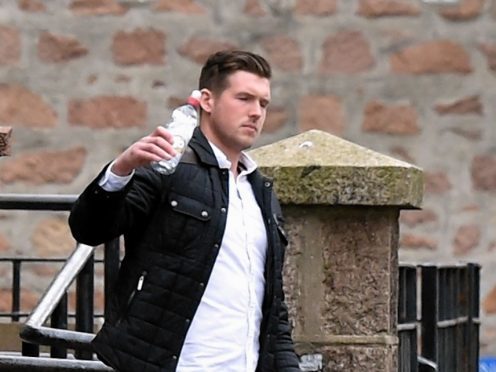 A Highland League star has been fined for assaulting a man outside a north-east nightclub.
Former Dons prospect Jamie Masson had been out with friends in the early hours of September 11 last year when he punched Fraserburgh dad James Noble outside Deejays Nightclub.
Mr Noble, who has three children, had to be taken to Aberdeen Royal Infirmary to be treated for his injuries, the result of his head colliding with the ground, which included a fractured skull and a blood clot.
The 34-year-old electrician was placed in a medically-induced coma for 10 days and had two procedures to relieve the pressure on his brain.
Masson admitted to the assault in April, but has always maintained he had been provoked.
CCTV footage was played in court last month which appeared to show Masson and Mr Noble interact with each other within the club before a fracas broke out involving the two at its entrance.
Taking this into account, Sheriff Andrew Miller fined the Formartine United star £450.
He said: "Ultimately, you have punched Mr Noble – essentially – as a reaction to his prior aggression towards you.
"You have clearly lived a very positive and productive life and will continue to do so."
At court yesterday, Masson's defence agent Leonard Burkinshaw said the 24-year-old spent his free time coaching his side's youth players and youngsters in Fraserburgh.
He added: "He had been out that night with friends just to enjoy himself.
"He did not go out that night to cause any trouble. He is deeply regretful of what happened on that night. He is effectively devastated by what he has done."
Mr Burkinshaw added that Masson has ambitions of pursuing a football career in the US.
Last night, Mr Noble's partner, Linzy Davidson, was scathing about the punishment meted out.
She said: "It's highly disgusting that he's got a fine for what he's done.
"James's life will never be the same again.
"He's deaf in one ear – £450 wouldn't even buy a hearing aid."
She added that the family had only ever wanted an apology from Masson.
The Press and Journal attempted to approach Masson, of Buchan Road, Fraserburgh, after court but his family declined to comment.
He will have three months to pay the fine.