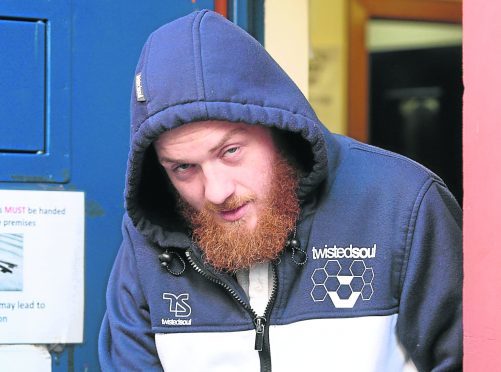 An Inverness man has been jailed for 27 months for carrying out a catalogue of "horrendous" domestic assaults on his ex partner.
In one case, Alistair Birss admitted punching Cassandra Alison-Reddington on the head and body before pushing her onto an armchair, covering her mouth with a tea towel and compressing her neck.
On yet another, he straddled the woman and pressed his hands round her neck, restricting breathing, shouted in her ear and punched her on the body. He then followed her into the bathroom and attempted to pick her up and push her against a wall to her severe injury.
Birss, of Drummond Road, committed these assaults and others on various occasions between September 16 and October 14 in 2015.
Yesterday the 28-year-old appeared from custody at Inverness Sheriff Court for sentencing.
Sheriff Gordon Fleetwood said: "Even in its restricted form the charge you plead guilty to has quite a horrendous catalogue of serious violent abuse towards a woman who had a right to expect decent behaviour.
"You have more than comfortably passed the threshold of a custodial term, and a significant term."
Birss has also been served a five year non harassment order, banning him from approaching his ex-partner upon release.
On another occasion, Briss seized the woman by the hood of her top and dragged her across a room before throwing her on the bed, causing her to strike her leg on the bed frame.
He then jumped on top of her, seized and compressed her neck before pushing her onto a sofa and repeatedly slapped her on the face.
In another instance he headbutted the woman on the face, and at another time squeezed her body and restricted her breathing and punched her on the body.
On yet another occasion he seized her by the hair, threw her over a sofa and caused her to land on a coffee table.
And in another instance he punched her on the body and then dragged her and pushed her against a wall.
Defence solicitor Marc Dickson said in his plea in mitigation that his client may have been suffering from depression throughout the course of his relationship with his ex partner.
Mr Dickson said his client understood what he did was totally unacceptable and bitterly regrets acting the way he did.