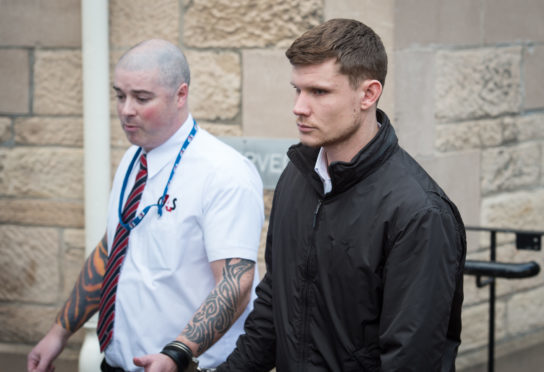 A tradesman lured teenage girls into his car with the promise of alcohol before coercing them into sexual acts.
Alastair Mackintosh, from Forres, offered to buy drink for youngsters aged 13 and 15 on the condition they came in his car with them.
However, the 29-year-old would take them to secluded locations before engaging in sexual activity with them – even offering to "pay for the abortion" after one victim feared she was pregnant.
Yesterday, Mackintosh pleaded guilty at Elgin Sheriff Court to indecent behaviour with five girls stretching across an 11-year period.
He enticed his final victim into his work van in 2016 after the teenager had seen him "driving around" for several days "smiling and waving" at her.
Fiscal Kevin Corrins said Mackintosh eventually pulled up next to the 15-year-old girl, asked her age, and asked if she could "keep a secret".
After swapping phone numbers he invited the teen to his St Margarets Court home before trying to have sex with her.
Mr Corrins said: "When she got there she was repeatedly asked to take her clothes off and kissing her on the face and body. She said she was 'just going along with it' because he was being complimentary.
"The accused took her to his bedroom but she said she needed to go home. He said 'We will be quick then.'"
He added: "The girl returned to the house again on another occasion. While there they had sexual intercourse. After that he handed the girl her clothes back and told her she could now go home."
After the girl feared she was pregnant, Mackintosh begged her "not to tell anyone" and offered to "pay for the abortion" in messages to her, the court heard.
Mackintosh began targetting the girls in 2006 – with three victims that same year.
His first victim was 13, and over a three-year period the pair would "go for spins" in his car, often in "quiet and rural" locations.
Mr Corrins said: "During these trips the accused asked her to remove her clothing. She complied sometimes 'to keep him quiet', when she refused he would call her 'boring'. He would often remove his clothing and encourage her to touch him."
The girl told police that at some points she would go in the car "almost every night" .
A second girl contacted Mackintosh when she was 13, wanting to buy alcohol. He attempted to kiss her and request naked photographs by social media over the course of a year.
He began abusing a third 13-year-old after befriending her on social media and offering to buy her alcohol.
Mr Corrins said: "The girl was picked up at home. She remembers the car stopping somewhere secluded and being asked for a kiss. She laughed nervously because she had never kissed a boy before, the accused then put his hands in her underwear."
Mackintosh targeted another girl in 2007, who was 15 at the time, after initially taking her "for spins" in his car – but would park up for the pair to have sex.
Defence solicitor Matthew O'Neill said his client was pragmatic enough to know that a prison sentence was likely inevitable.
Mackintosh was remanded in custody until March 12 for reports to be prepared after pleading guilty to three charges of using lewd, indecent or libidinous practices, two charges of engaging in sexual activity with someone under 16 and a further charge of unlawful sex.