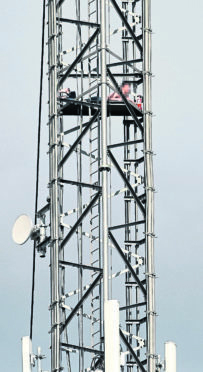 A man accused of scaling 200 feet up a Highland TV mast and holding police at bay for around 12 hours appeared in court with his arm in a sling yesterday.
Steven Urquhart, 23, from Cameron Crescent in Munlochy, allegedly sustained an injury, according to one of the charges, by hanging with one arm from the Mounteagle Transmitter near Fortrose on the Black Isle on Tuesday.
But Urquhart made no plea at Inverness Sheriff Court as his solicitor, Clare Russell, told Sheriff Gary Aitken that she had "significant concerns" over her client's mental health.
She told the court that although he had been assessed by a community psychiatric nurse (CPN) as sane and fit to plead, she said she was worried that he would not understand proceedings or give her clear instructions.
Miss Russell added: "The CPN is not a psychiatrist and although I am not one also, if the Crown won't instruct an assessment of him, I am seeking a continuation without plea to investigate having one instructed."
Sheriff Aitken agreed to continue the case until October 4.
He released Urquhart on bail but imposed a 7pm to 7am curfew on him.
Urquhart faces two charges, one of breaking into the Mounteagle Transmitter, occupied by Arqiva, with intent to steal, while on two bail orders.
He is also charged with conducting himself in a disorderly manner at the transmitter and en route to Raigmore Hospital.
The details allege that he climbed the mast at a height of around 200 feet, removed his clothing and consumed alcohol, alleged actions that necessitated the attendance of emergency personnel.
He is then alleged to repeatedly refuse to comply with their instructions to secure his safety, whilst intoxicated, and repeatedly dangled with only one arm, holding on to the mast and injuring himself.
The charge also accuses him of repeatedly shouting and swearing and challenging emergency personnel to fight and when rescued, he shouted and swore at police, Arqiva employees, medical staff and committed a breach of the peace while on bail.
Urquhart spoke only briefly, confirming to the Sheriff that he understood his bail conditions and the curfew by answering 'Yes'.