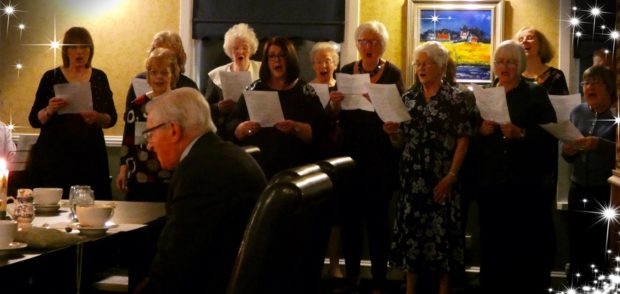 Offenders have grown accustomed to facing the music at Peterhead Sheriff Court.
But there will be a trial of a different kind next month when a north-east group stages a Gilbert & Sullivan operetta inside the No 1 courtroom on the premises.
The unique event has been organised by Ugie Voices – formerly the Peterhead Choral Society – which, confronted with a diminishing membership, and the retirement of their long-serving conductor, faced a stark choice – diversify or fold.
That helps explain why their members have decided to put on "Trial by Jury" in the ideal setting for the popular work by the famous English composers.
The organisation's secretary, Neil Gibson, is excited at the prospect of performing outwith the normal confines of a concert hall or community centre.
Mr Gibson said: "With a young, enthusiastic musical director in James Campbell, the group worked through last autumn on a concert that comprised a wonderfully varied programme and which was well supported and enjoyed by artists and audience alike.
"The decision to arrange a production of Gilbert & Sullivan's Trial by Jury and a selection of songs from the shows generated several interesting ideas regarding where to hold the concert.
"Given where the main piece is set, we contacted Peterhead Sheriff  Court and were thrilled when permission was granted to use the building for our performance.
"It is believed to be the first time this well-known operetta has been performed in an actual courtroom in the region and we are all really looking forward to it."
He added: "The programme will be a concert performance of Trial by Jury in the first half and songs from a variety of popular shows and musicals in the second, with audience participation included and encouraged.
"Ugie Voices wants to reach out to other singers in the area and it is the group's hope that a lively and varied programme, performed in a unique setting, will encourage others to come join the fun in the future."
The event is being dedicated to the late Marion Macfarlane, the long-standing president of Peterhead Choral Society, who played a pivotal role in the creation of Ugie Voices, but died in February and couldn't perform with the group she helped create.
Trial by Jury will be held at the courthouse on Saturday May 4 at 7.30pm.
Tickets are available for £5, which includes interval refreshments, from the Ugie Voices Facebook page or by contacting Gordon Hay on 01779 821206.