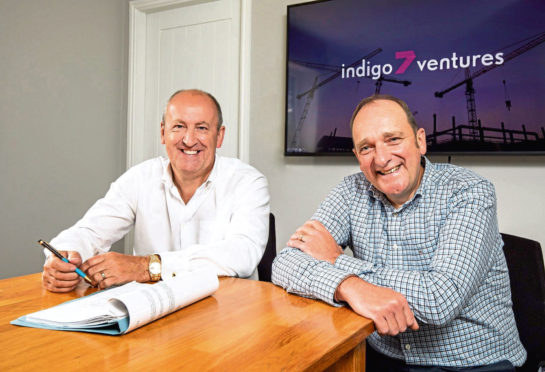 North-east entrepreneurs Doug Duguid and Michael Buchan have launched a multimillion-pound investment fund to support fledgling technology companies in the renewable energy industry.
The former EnerMech duo – Mr Duguid, 58, co-founded and led the Aberdeen-based mechanical and electrical services company as chief executive, while Mr Buchan, 54, was another founding partner and its chief financial officer – have formed Indigo 7 Ventures (I7V).
In 2008, the pair teamed up with two other former directors of PSL Energy Services, Derek Grant and Phil Bentley, to establish EnerMech.
They went on to develop EnerMech into a global engineering services firm that was acquired by Carlyle Group two years ago in a £450 million deal.
Previously, the duo led pipeline and well interventions specialist PSL and grew it into a global business which was acquired by Halliburton, in 2007, in a £128m deal.
I7V will invest upwards of six figure sums in start-up businesses specialising in environmental sustainability and energy transition.
Other members of Mr Duguid's immediate family are also shareholders in the new Aberdeen-based company.
There is a seven-strong team beind the fund, which has already made a number of "substantial" investments in UK and South African-based businesses. Details of these deals have not been disclosed but they are expected to emerge soon.
I7V's founders believe their extensive experience in sourcing finance, setting up businesses in different geographic locations, arranging international joint venture agreements and navigating tax and regulatory requirements, will differentiate their new investment company from traditional funders.
In tandem, I7V will also set up its own renewables services, inspection and repair business in wind, solar and hydrogen markets, with a strategy aimed at establishing an international presence.
Mr Duguid said: "The energy industry is changing and it is clear that over the next few decades we need to move away from traditional hydrocarbon production, and manage energy transition into renewable sources.
"Michael and I have built two international businesses and have learned a lot of lessons, good and bad, along that journey.
"We believe we can help new and emerging companies to avoid some of the pitfalls that befell us as we transformed those businesses into global players."
He added: "The companies we will invest in will be able to draw on our considerable range of experience in operations, finance, fundraising, back office and HR, and can, therefore, concentrate on the really important stuff such as R&D and a successful market entry.
"It is often difficult to secure early-stage funding for new businesses, particularly in the current environment when the economy is taking a pounding.
"We have experienced those difficulties ourselves and, therefore, we are setting out our stall to be a more flexible type of investor without some of the constraints faced by traditional financiers."
Mr Duguid said I7V was looking to support companies developing new technologies which can offer "innovative thinking" to solve emerging problems in the renewables sector.
"Scotland in many respects is a world leader in renewables," he said, adding: "But it needs people with smart ideas to genuinely drive forward our energy transition.
"I7V will play its part by investing in innovative technology companies which can facilitate that change."