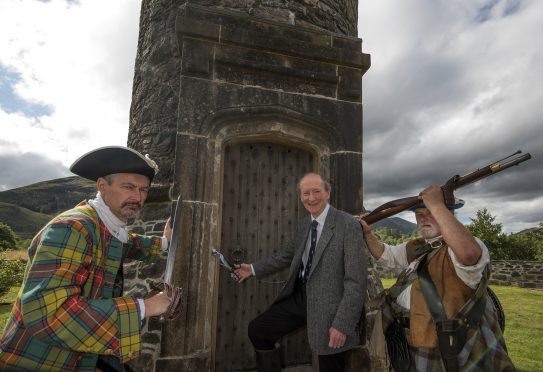 Jacobite soldiers were drafted in to oversee the reopening of a landmark which had started to take on a Leaning Tower of Pisa look.
Conservation work costing £170,000 has been carried out at the Glenfinnan Monument and a system has even been installed to monitor any future movement in the structure
The tower stands as a poignant monument to the final Jacobite Rising, and money to safeguard it came from grants and donations.
It was officially reopened with the cutting of a ribbon by Professor Hugh Cheape, vice-president of the National Trust for Scotland.
Saturday's event was organised to coincide with the Glenfinnan Gathering, or Glenfinnan Highland Games.
A lone kilted Highlander stands at the top of the 60ft column, which was built 200 years ago and has been tilting for decades.
The movement was first registered in 1929 and by the 1980s the tilt was measured at almost 11 inches.
Gradual flooding of the adjacent loch and River Shiel over many years has undermined the monument's foundations.
The landmark was built as a memorial to the men who died in the 1745 Jacobite Rising.
The National Trust for Scotland, which took the monument under its wing in 1938, has given various assurances in the past about its stability, pointing to the sandy soil beneath.
The monument, designed by James Gillespie Graham, is a hugely popular stop, attracting thousands of tourists on the Road to the Isles each year.
A range of conservation works have been undertaken by Masonry and Lime, including repairs to the monument and the statue's stonework, re-pointing of the boundary wall and repairs to ironwork and the original marble information sign.
Glenfinnan property manager, Kirsteen Nielsen, said: "The Glenfinnan Monument has been standing proudly here for 200 years, marking the raising of Charles Stuart's standard all those centuries ago. It is a place of gathering to this day.
"Any structure of this age and significance needs ongoing care, conservation and repair and that was the case with the Glenfinnan monument.
"This work will give visitors a better experience and preserve the monument for generations to come."