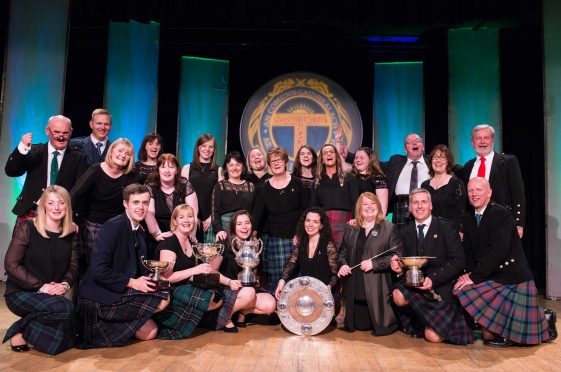 The voices in an island choir so impressed the judges at the Mod that they were awarded the prestigious Lorn shield and a host of other prizes.
Members of the group from Back on the Isle of Lewis were delighted at gaining top marks against stiff competition from six other Gaelic choirs.
The rural choirs contest was held in the Nevis Centre, Fort William, yesterday before a packed audience.
The choir also won the Mrs Catherine C MacDonald silver baton, the Dalriada Cup for the highest marks in Gaelic and the Captain Angus Stewart trophy for the highest marks in music.
Avril Allen has been conducting the Back choir for the past 16 years.
She said: "This has just been a great day. Rural choirs care about the language and culture and they also care about the story in the song.
"These all must come across in the competition.
"We have one top soprano, Carol MacDonald, and she must be singled out as she was praised so much.
"But everyone did so well – I just loved it."
The choir also won the Hamish Graham (Strath) trophy for the highest aggregate marks in Gaelic throughout three competitions and shared the highest aggregate music marks in the same contests, scoring equal points with the Melvich Gaelic Choir.