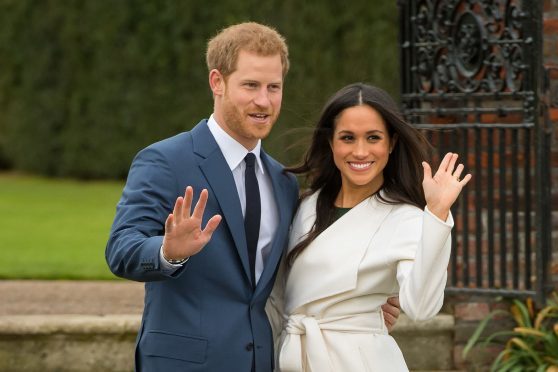 Ross-shire could be about to become just a little bit more royal.
Prince Harry and Meghan Markle are expected to receive Scottish titles following their wedding in May – and the most likely choice is currently the Earl and Countess of Ross.
The extinct earldom could be the perfect match because it has a history of being bestowed on royal second sons.
However, the Queen may yet decide to avoid gifting the Ross honorific as the shadow of an executed monarch still hangs over it.
Wendy Bosberry-Scott, co-editor of the reference book Debrett's Peerage and Baronetage, said: "The Scottish title Prince Harry receives is likely to be an earldom but there are very few clues here.
"One potential candidate is Ross, but this was last held by Charles I – who was executed in 1649 – so it may well be considered unlucky.
"Dumbarton is another possibility but, at this point, it is merely speculation and many factors will have to be considered before a suitable title is chosen."
In England, Harry, 33, and Meghan, 36, are expected to be known as the Duke and Duchess of Sussex – but the Queen also has to decide which Scottish titles to bestow on the pair.
Harry is likely to be made an earl rather than a duke, ensuring he doesn't outrank brother William – Earl of Strathearn – and uncle Andrew – Earl of Inverness.
The Ross title was forfeited to the Crown by the Lord of the Isles in the 15th century.
And there have been four royal holders since including James Stewart – second son of James III – and Alexander Stewart – second surviving son of James IV.
However, the other recipients have met grisly deaths: Lord Darnley – husband of Mary Queen of Scots – was strangled in 1567 and Charles I beheaded by Parliamentary forces, since when the title has been extinct.
Ross is 6/4 favourite with McBookie.com to be Harry and Meghan's official domain north of the border, with Dumbarton, Deloraine, Ormond and Forfar also in the running.
McBookie spokesman Paul Petrie said: "This might seem like a bit of royal pass-the-parcel but actually a lot of thought and research goes into bestowing a title.
"There is history and prestige behind each one and the Queen will be advised on what is the best fit for the couple and no doubt have her own ideas too.
"These titles are used officially when members of the royal family come to Scotland; it ensures we continue to have our own distinct identity within the United Kingdom and don't just followed the lead from England."
Other princes have their own Scottish titles; Charles is the Duke of Rothesay and Philip the Duke of Edinburgh.