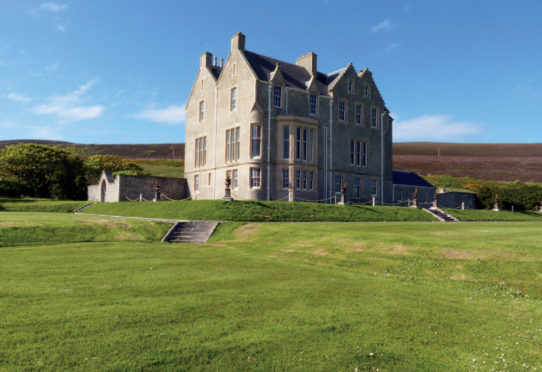 Islanders in Orkney have been given £260,000 to purchase more than 1,700 acres of peatland and pasture on their isle.
And it will really be a case of power to the people for the money will allow residents on Rousay to both develop visitor facilities on the Trumland estate and secure the site for a community-owned wind turbine.
The land also includes archaeological remains and a site of special scientific interest.
The Scottish Land Fund grant is one of 10 across Scotland in the latest £1.6 million allocation of money.
The Rousay, Egilsay and Wyre Development Trust (REWDT) said the funding would allow it to employ a project officer and ranger.
REWDT chairman John Garson said they hoped in the longer term to promote tourism on the island which has only 216 residents.
"The project will help promote Rousay as an attractive place to live and provide two employment opportunities," he said.
---
---
"The follow-on stages of this project will also have significant environmental advantages, will encourage and make it easier for locals and tourists to visit the area, provide well-needed additional public toilets and have the possibility of aiding digital connectivity across our islands. We can't wait to get started."
Last week it was also announced that a group of uninhabited Orcadian islands – up for sale for over £200,000 – are to be bought by the local council because they were "too important to miss."
An offer by Orkney Islands Council to purchase the islands of Faray, Holm of Faray and Red Holm has been accepted.
It is anticipated that the council will become the owners of the islands early in 2019.
Orkney Islands Council's Leader James Stockan said: "The availability of this opportunity at a point when the council is actively looking at how best to maximise the resources available to them during financially challenging times, was too important to miss.
"There was significant local and national demand for these islands and it was vital the council did all it could to secure them as a strategic development opportunity.
"There are a number of potential routes we could now take with them – some of which offer us the opportunity to generate income, some to make savings – and officers will be exploring these opportunities in due course."
Other SLF awards include £38,000 to purchase land for parking, cycle space and an electric vehicle charge point at Hoswick visitor centre on Shetland and £187,000 to buy a four-bedroom house on Papa Westray, Orkney, to turn it into an affordable rented family home.
A further £147,600 was awarded to buy a former harbour master's house in Westray, Orkney, to turn it into rented accommodation, while a £99,200 award will enable a group to take over ownership of the Tarves community hub in Aberdeenshire.