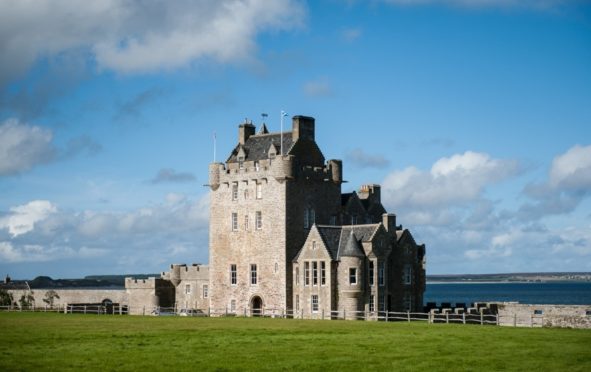 A luxury north hotel has been abruptly shut down, leaving staff shocked and devastating dozens of people who had booked expensive Christmas stays.
About 40 employees at Ackergill Tower, outside Wick, were called into an emergency meeting yesterday morning where they were told that the historic venue was being closed immediately.
It is understood that a wealthy American plans to buy the 15th century establishment, which has been on the market for three years, and use it as a holiday home.
A planning application has been lodged with Highland Council, seeking permission to change the use of the building from a hotel to a house.
The tower has struggled to attract guests during the early winter, but 30 of its 33 rooms had been booked over Christmas.
Last night, customers were advised that the festive getaways they had shelled out huge sums for would have to be scrapped.
And fears have been raised that the demise of the picturesque attraction could impact on the popularity of the North Coast 500 (NC500) – which promotes the spot as "one of the finest hotels in the Highlands" to visitors from across the world.
Wick and East Caithness councillor Raymond Bremner claimed the move showed owners Clarenco LLP "do not care about Caithness".
He said: "If the tower becomes a holiday home that would be a big loss, especially when you consider its importance to the NC500 and wider far north economy.
"This says a lot about how much the owners care about Caithness.
"Bookings had been taken into early next year, and to enforce this closure at such short notice is absolutely ridiculous.
"My thoughts are with the staff, their families and the guests, especially at this time of year."
Customers who booked three-day festive packages paid between £750 to £900 for a room, or £1,200 for a cottage.
A source told the Press and Journal that the chief executive Clarenco LLP flew to Wick to break the news.
The source said staff thought "everything was continuing as normal" while the building was up for sale.
They added: "The place was almost full for Christmas, people from far and wide had booked rooms.
"Now, 10 days before, they are being told that they can't stay.
"Staff with contracts were told their contracts were null and void, they were being terminated from today.
"They were told that, if the sale doesn't go through, then they can re-apply for their jobs in March.
"It is appalling what they have done."
The Press and Journal made repeated attempts to speak with Clarenco yesterday but staff refused to comment.
Richard Branson, Billy Connolly and the cast of The Only Way Is Essex have all enjoyed stays at Ackergill Tower.
TV host Philip Schofield got married there in 1992, and has returned to visit several times since.