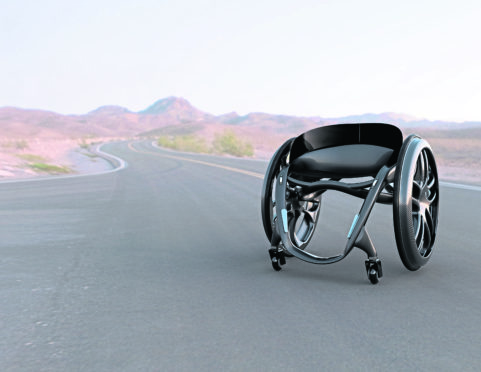 A disabled Highland entrepreneur has won $500,000 of international funding to develop a "smart wheelchair".
Andrew Slorance has already succeeded in building high-tech carbon fibre wheelchairs, but now has his sights on advancing how to use the latest technology to assist users.
Mr Slorance, from Nairn, was left paralysed by a spinal injury he suffered during a fall from a tree aged just 14.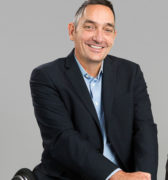 He is one of five finalists – and the only Brit – named in the Mobility Unlimited Challenge unveiled in Las Vegas by the Toyota Mobility Foundation.
Mr Slorance is designing an ultra-lightweight, self-balancing, intelligent wheelchair which eliminates painful vibrations.
Using smart sensors his aim is for the chair to configure itself to what the user is doing so it remains in sync with how the user moves.
The 'Phoenix Ai wheelchair' will adjust its centre of gravity to fit what the user is doing making for a chair that is easier to push and turn by eliminating drag and uncomfortable, painful vibration while also making the chair safe from falling backwards.
Mr Slorance said: "I'm delighted to have made it to the final five. I've worked towards this for years but didn't expect to make it through.
"I had to make a huge pitch during a Dragon's Den style interview, but this is amazing.
---
>> Keep up to date with the latest news with The P&J newsletter
---
"I will be working with a number of organisations to develop the chair, but will also be creating three to four jobs.
"I'm so pleased the judges recognised that the wheelchair has proved itself as the most viable mobility device for decades and although it has done well it is now tired and in need of a serious makeover.
"I wanted to show how I think the wheelchair can be evolved while maintaining its core, proven fundamental capabilities that are behind its success as a mobility device.
"I wanted to be part of this challenge because I broke my back when I was 14 which was now 35 years ago.
"By the time I was 16, I'd decided that I would one day design a wheelchair that would change perceptions by using cutting edge materials and styling.
"I knew the next step beyond advanced materials has to be to make wheelchairs smart. But that costs a huge amount of money in development.
"So, when I saw this challenge, I thought here is the money to develop this technology. No-one else is going to do it.
"No company is going to decide to spend half a million dollars on research and development to advance the manual wheelchair. Why should they? As long as their competitor also doesn't do it the status quo can continue with wheelchairs remaining much as they were 35 years ago.
"This challenge changes that. Being selected is just incredible. But now the work really begins, we've got eighteen months to turn the wheelchair which has been in the technological dark for so long into a futuristic device that intelligently makes wheelchair life easier."
Mr Slorance will be up against the Evowalk leg sleeve, an Italian wheelchair sharing app and two exoskeleton designs.
---
Hopes to improve lives of millions of people
Mr Slorance is one of five finalists named in the Mobility Unlimited Challenge unveiled in Las Vegas by the Toyota Mobility Foundation.
They launched the three-year global challenge in 2017 with the aim of improving the lives of millions of people with lower-limb paralysis.
The challenge invited engineers, innovators, and designers from across the world to submit designs for game-changing technologies, incorporating intelligent systems, to improve the mobility and independence of people with lower-limb paralysis.
Central to the challenge is the importance to develop devices which will integrate seamlessly into users' lives and environments.
Each of the finalists will receive a grant of $500,000 to develop their concept further, with the final winner of the challenge receiving $1 million in Tokyo in 2020.
Eighty entries were received from specialist teams in 28 countries globally. The finalists were chosen by a panel of expert judges.
Dr Eric Krotkov, chief science officer at Toyota Research Institute and one of the judges of the challenge, said: "There are so many technological opportunities to explore approaches to alleviate challenges stemming from lower-limb paralysis.
"A competition like the Mobility Unlimited Challenge gets innovators to focus on the same problem to identify something of great common interest that serves society.
"I am excited by these finalists who have a breadth of technical approaches – wheelchairs, orthotics, braces, exoskeletons. I look forward to seeing how they will take these devices out of their conceptual stage to help our end users."
In addition to the $500,000 grant, the finalists will attend tailored workshops, receive mentoring opportunities with engineering experts, and collaborate with end users to further the development of their concepts through to 2020.
Ryan Klem, director of programmes for Toyota Mobility Foundation commented: "We think that the technology incorporated in these devices could change the lives of a huge number of people around the world."