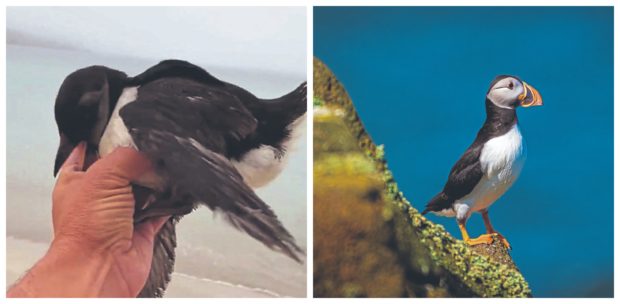 A nature enthusiast in Shetland received a surprise earlier this week when he found an unusual bird in his garden – a baby puffin.
Rob Fray, who luckily for the puffin is a bird recorder with the local bird club, came across the animal on Monday night.
He found it standing next to a moth light in his garden before releasing it back into the wild the next evening.
Mr Fray lives in Quendale near to Spiggie Loch – some four to five miles away from the Sumburgh Head puffin colony at the southern tip of the Shetland mainland.
"Young puffins get left by their parents anyway," he explained. "The parents stop feeding them when they think they're ready to leave, and then the puffin eventually decides it's going to jump out of its hole and fend for itself.
"They normally do it in the evening, so they don't get eaten by skuas and gulls. I assume it decided to leap out of its hole, some time in the dark, and for some reason or other got completely disorientated and started flying around."
Mr Fray presumed it headed inland instead of out to sea, and "saw the light" in the garden before aiming for it.
"It was quite wet when it got to me so I suspect it might have just plopped into a field and then walked to the light or something," he added.
"It was just stood next to the moth trap – it didn't seem to be too stressed by anything, and it let me pick it up quite easily."
Mr Fray kept the puffin in a cat carrier overnight before releasing it the next day at the Spiggie beach where it "swam off happily".
He added that while baby puffins have been known to occasionally get lost inland, one finding its way into a garden was unusual.
"At least it picked a garden with somebody who knows what to do with puffins, which is quite handy for it," Mr Fray said.