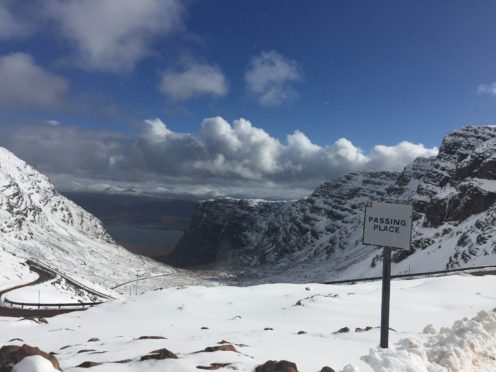 Police are warning motorists of poor driving conditions as wintry weather blasts parts of the Highlands.
Due to snowfall in the Applecross region, the Bealach Na Ba road has been forced to close.
Conditions are also proving difficult across Skye, Lochalsh and WesterRoss.
A police statement said: "Driving conditions are poor across Skye, Lochalsh & WesterRoss and we have been notified that Bealach Na Ba in Applecross is now closed due to snow.
"Please be careful on the roads and stay safe!"
Take our word for it – driving conditions are poor across #Skye #Lochalsh & #WesterRoss and we have been notified that #Bealach Na Ba #Applecross is now closed due to snow. Please be careful on the roads and stay safe! pic.twitter.com/LxjrkwSbAg

— Lochaber & Skye Police (@LochabSkyePol) February 11, 2020