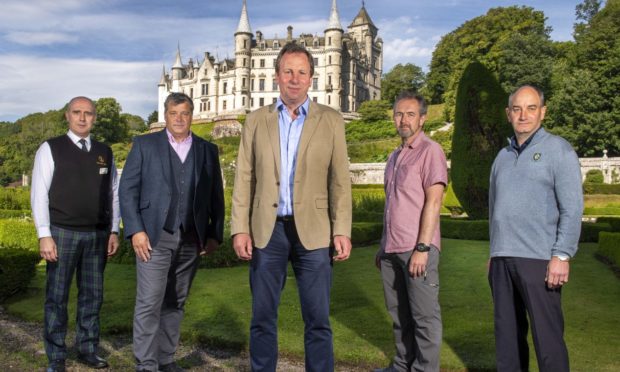 Leading businesses are calling for a growth fund to be set up to help the north Highlands bounce back from the impact of the Covid-19 pandemic.
They also want to see money from offshore windfarm developments used to deliver "legacy' projects" under the economic recovery proposals.
The group says the area has been disproportionately affected by the virus because of its high dependency on tourism and argues it needs investment in infrastructure, skills development and to support business starts ups.
Led by the North Highland Initiative, which set up the North Coast 500 tourist route, the businesses include Dunrobin Castle, Royal Dornoch Golf Club, Highland Food and Drink, Go Golspie!, Mackays Hotel in Wick and Kylesku Hotel in Sutherland.
In a letter to Michael Gove, Chancellor of the Duchy of Lancaster, and copied to local MPs and MSPs as well as tourism minister Fergus Ewing, they urge the Scottish and UK governments to make a special economic case for the north Highlands.
David Whiteford, chair of the North Highland Initiative, said: "We need urgent investment in public infrastructure so visitors stay longer and spend more to help create a strong economy once again."
While the NC500 route has been highly successful in attracting tourists to the area, Mr Whiteford said it has highlighted some "weaknesses" in infrastructure, connectivity and facilities which has created "pinch points" and discussions around "overtourism". Much of this, he argues, could be remedied through public and private investment.
He added: "I would implore too that thought be given now for the creation of an offshore windfarm sovereign fund that would deliver legacy projects in future generations – an opportunity that was omitted at the start of the North Sea oil era and where, in comparison, Norway has clearly benefited."
Tanja Lister from the Kylesku Hotel, said: "There is absolutely no doubt that the north Highlands has untapped potential.
"There are not many places that offer such an opportunity to enjoy nature, wildlife and fine food and drink as this part of the Highlands.
"It is clear, though, that we need a long term strategy to ensure we deliver the appropriate infrastructure whilst keeping the magic and authenticity of the area.
"We also need some very quick short term initiatives to manage the immediate needs – such as refuse, parking and toilets.
"Any economic development needs to be managed sensitively – there is a reason these wild, untamed places are so popular.
"We have an opportunity to do this in a way which goes hand in hand with a greener, carbon neutral future."
A Scottish Government spokesman said: "The Scottish Government is committed to developing the Highlands economy to its full potential as we restart our economy and continue to invest in the future of our local communities."
He said Highlands and Islands Enterprise is helping businesses recover from the pandemic, and has made offer of Scottish Government-supported funds to businesses across the region worth almost £25 million.
The spokesman added: "Through our regional growth deals programme we are investing £135 million over 10 years in Inverness and Highland region, which includes north Highland.
"Along with the UK Government, Highland council and regional partners, this £315m programme aims to deliver a step change in regional economic performance by improving transport, innovation, digital connectivity, housing, skills, infrastructure and tourism.
"We have also committed £9 million to our Rural Tourism Infrastructure Fund which provides much needed infrastructure to alleviate impact of growing tourism numbers in popular rural locations."
The UK Government said more than 65,000 businesses in Scotland benefited from more than £2.3 billion of support through government-supported loan schemes to help recover from Covid-19.
It said retail, construction and hospitality sectors, including hotels and restaurants, have benefited the most.
A spokesman said that the Scottish Government will also receive at least £1.9 billion in additional funding this year, on top of £4.6 billion since March following the pandemic.