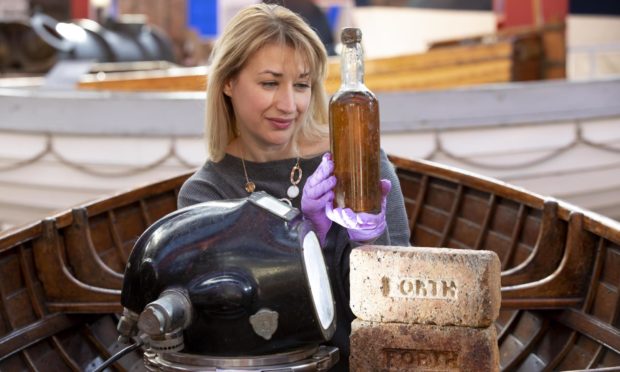 After sinking below the waves in one of Scotland's most famous shipwrecks, a new home has been found for an incredibly rare bottle of whisky.
The unlabelled blended beverage was one of 264,000 stowed away on the SS Politician, which ran aground off the Isle of Eriskay in 1941.
When gale force winds forced it to change course, the 800-tonne ship hit a submerged sandbank and began to take on water.
Locals descended during night-time raids to plunder the cargo for themselves, falsely believing it was theirs to save – and later finding themselves in trouble with the law in the process.
The ordeal inspired Compton Mackenzie's famous 1947 novel Whisky Galore!, which was converted for movie screens two years later.
The film was remade in 2016 starring Gregor Fisher and Eddie Izzard.
Some of the SS Politician's cargo was left under the surface until it was recovered by diver George Currie in 1987.
Now believed to be undrinkable, one of the bottles has been sold at auction in a lot also containing Mr Currie's helmet and two bricks which were being carried on the ill-fated vessel.
And having won the lot with a £9,200 bid, the Scottish Maritime Museum in Irvine will feature the items in an upcoming exhibition about smuggling.
Director David Mann said: "This bottle of shipwrecked whisky may be small in size but the colourful story behind it provides us with a powerful and enthralling link with our cultural and social maritime past.
"Intact and in good condition, which is amazing considering 46 years submerged in saltwater, the bottle complements our nationally recognised collection of Scottish shipbuilding, boatbuilding, engineering and design perfectly."
Senior curator Abigail McIntyre said: "There are so many fascinating topics we can explore with our visitors through it, from island life during the war period and underwater archaeology and recovery through to challenging our understanding and portrayal of smuggling in Scottish waters.
"The wreck of the SS Politician had a profound effect on the life of the islanders of Eriskay, many of whom felt keenly the injustice of being prosecuted.
"As well as looking at the impact of the shipwreck generally, we will also explore maritime laws and their implications through this wonderful new artefact."