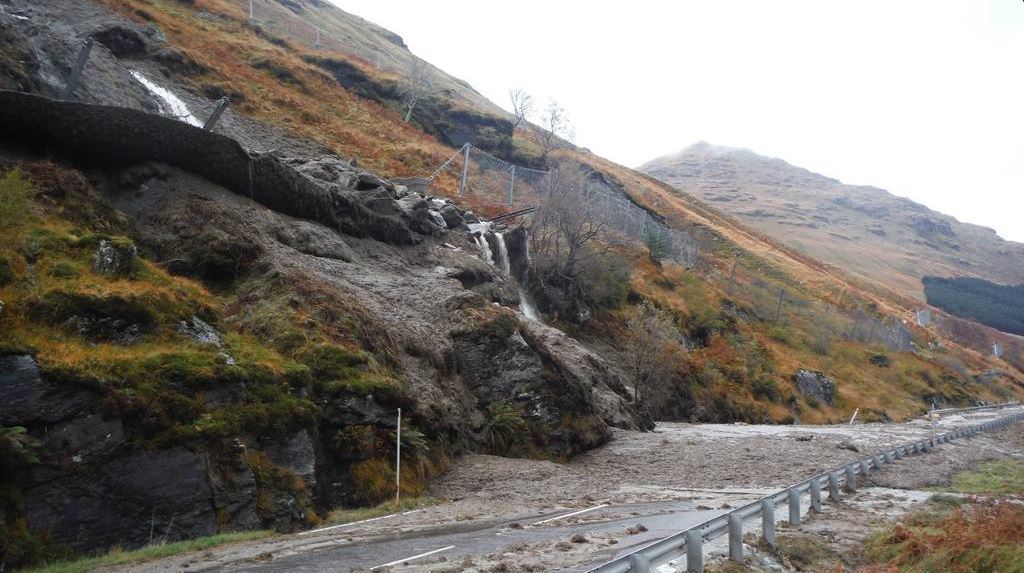 It is hoped that the Old Military Road can be opened this afternoon to provide a route around the severe landslips that occurred on the A83 at the Rest and Be Thankful overnight.
Trunk roads maintenance agency Bear Scotland said final preparations were now being undertaken to activate this diversion.
There had also been landslips at Glen Kinglas, north of Rest and Be Thankful, a landslip at Ardgarten at the 'Spanish Steps' and flooding at Arrochar, both to the south of Rest and Be Thankful.
These locations had to be inspected by specialist geotechnical engineers to confirm they were safe and the agency said its priority was to clear these areas to allow the Old Military Road to be opened and to reinstate the lifeline link to Argyll and Bute.
Over the past three days, more than 6ins of rain has fallen in the north-west of Scotland, with as much as 10ins falling in some areas.
BEAR Scotland north-west unit representative, Eddie Ross, said the volume of rainfall was having an impact on trunk roads in the north-west of Scotland – particularly in areas where the roads run adjacent to steep hillsides or lochs and had affected a number of different sites at the same time.
He said: "We are working hard to re-establish safe access as soon as possible.
"The Old Military Road diversion is only viable if we also clear the locations on the A83 that have been impacted by conditions outwith the reach of the diversion.
"We are therefore working on a number of priorities at the same time to make the solution viable."
A £6million package of Works continues to improve the resilience of the A83 with a variety of improvements, which including work at Glen Kinglas, Loch Shira and Strone point building on the £8million, which has already been invested in and around the Rest and Be Thankful area.