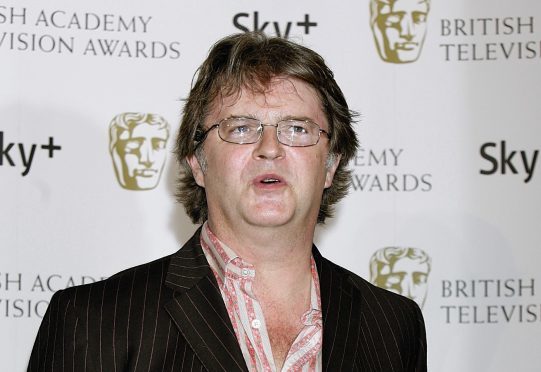 One of Britain's bestknown comedians and broadcasters paid a whistle-stop visit to Scotland's most remote train station for his latest TV series.
And the episode in which Paul Merton, who is also well-known as a writer and actor, stops at Corrour Station on Rannoch Moor in Glen Coe, will be shown on Channel 4 on Sunday at 8pm.
The isolated station, which is only accessible by train or a 20-mile walk, is one of more than 150 request stop railway stations in Britain.
Passengers have to put out their arm to get the train to stop at the platform.
In this travelogue, called Paul Merton's Secret Stations, he explores the weird and wonderful world of request stop railway stations throughout the UK.
He finds out about the history of the stations and meets the people who live and work around them to learn more about these unusual and often overlooked stops.
In the final programme of the three-part series, he requests a stop at Corrour Station on the West Highland line from Glasgow to Fort William, which at 1,339ft is the highest mainline railway station in the UK.
During his visit to the remote station, he was given lunch at Corrour Station House guesthouse and restaurant.
Shona Griffiths, of Taynuilt, who had been working there at the time, said Mr Merton and the film crew came on a day whey they were closed so she and her friend Amy Kincaid, of Oban, opened especially for them.
She said: " It was an interesting day. There were about 10 of them and we gave them all soup and sandwiches.
"It was good to meet Paul Merton.
"He seemed a bit tired after the long train journey and filming all week, but he was still lovely. We were chatting away and he was good fun."
The TV personality also took a 20-minute walk to Loch Ossian Youth Hostel, where he met and chatted with hostel manager Jan Robinson.
Mr Merton was given a tour of the interior and exterior of the hostel and was keen to find out about SYHA and youth hostelling.
Ms Robinson said he was particularly intrigued by the wind turbine, solar panels, composting toilets and reed bed grey water drainage system.
She said: "Paul definitely appreciated the remoteness of the location.
"He was also very interested in the youth hostel's environmentally-friendly and energy-efficient systems."
She added that they were fortunate to have had good weather and no midges for his visit.