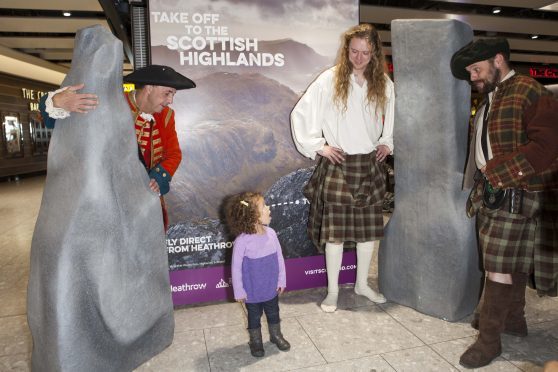 Air passengers in London might have made a double take this weekend as kilted Highlanders, a ceilidh band and even the famous Callanish Standing Stones were spotted at Heathrow's Terminal Five.
The Scottish icons were in the world's second busiest airport as part of partnership activity between VisitScotland and Heathrow to promote the ease of access between the capital of the UK and Inverness with a new daily service operated by British Airways.
Passengers at Heathrow were invited to dress up in traditional Highland dress and to take selfies with members of the Clanranald Trust for Scotland, while traditional music was provided by Licence to Ceilidh.
Six-foot high replicas of the Callanish stones on Lewis also helped bring the Highlands and islands.
Malcolm Roughead, chief executive of VisitScotland, said: "The stunning scenery and rich culture of the Highlands are famous throughout the world, but some may not realise just how easy it is to get there.
"It was great to be able to bring a little taste of the Highlands to Heathrow – a hugely important airport not only for our domestic visitors, but as a hub for passengers from around the globe."