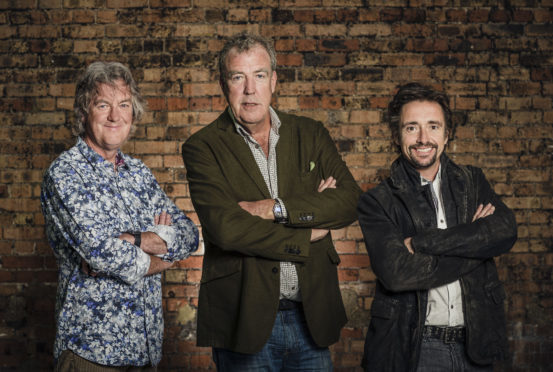 He famously prefers four wheels to two – but Jeremy Clarkson has got on his bike in the Highlands.
The Grand Tour presenter and his two companions, Richard Hammond and James May, have been tackling the North Coast 500 route round the north of Scotland coastline this week.
The trio have each chosen three old cars – a Fiat, a Lancia and an Alfa Romeo – and the challenge is to see who breaks down first.
But despite a social media post by Clarkson on the morning of his 57th birthday yesterday saying that none of them had broken down, the camera cannot lie.
An eye witness saw Clarkson's red Alfa Romeo on the rear of an AA recovery vehicle which has been following the entourage filming an episode for the third series of Grand Tour.
And the same photographer, Gav Smith, snapped Clarkson frantically pedalling out of Golspie on the A9 riding a turquoise bike – in the wrong direction.
The motor enthusiast should have been cycling north if he wanted to catch up with Hammond and May, who had apparently carried on their journey.
Mr Smith posted that the breakdown and Clarkson cycling was "staged" just for the show.
A convoy of around 20 left the Kingsmills Hotel in Inverness on Monday morning where the stars were staying at the week-end.
Followed by the AA flatbed, they gained access to the pier at the former naval base in Invergordon to film a promo which Clarkson posted on social media.
All three vehicles were lined up with oil rigs in the background, anchored in the Cromarty Firth.
The short video declared the pals were about to tackle the NC500, with a moan from Clarkson about Scotland being "cold and wet" posted in a comment below.
When they left, again in convoy, it caused chaos in the Easter Ross town centre as they travelled through, refusing to allow motorists to interrupt the flow.
Fans of the programme are now following their progress on the internet with many businesses on the spectacular coastal route trying to lure the cameras to their premises.
It is believed the crew will film for a couple of days around Ullapool before heading back to Inverness and then back south.