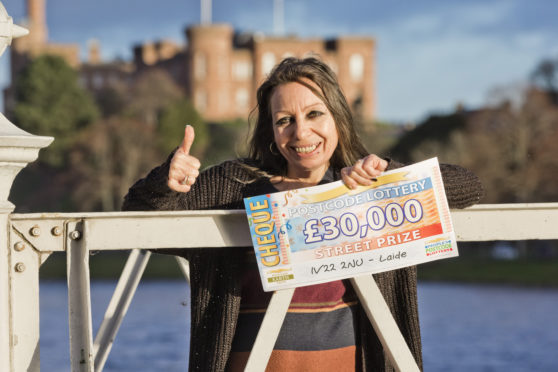 It wasn't quite as much as the Euromillions, but one Inverness woman landed £30,000 in the People's Postcode Lotterythis week.
Daniele Martin, 51, won the prize playing with the postcode of her holiday home in Laide, Sutherland – IV22 2NU.
Ms Martin, who works at Currys PC World in Inverness, was shocked to discover how much she'd won.
She said: "I have absolutely no idea what I'll spend it on. I knew the Postcode Lottery team were coming round but I'd kept my expectations low and thought I might get £1,000 at most, so £30,000 is unbelievable. The first thing I'll do is treat everyone at work to lunch – and then get my nails done.
"My house in Laide is my family's and I love to get up there as much as possible when I'm not working to spend time outdoors and away from the internet. It's really special to have won with that postcode. I've put another ticket on with my Inverness postcode now too though."
The prize was drawn as part of People's Postcode Lottery's Christmas campaign in which one postcode was drawn every day of its December draws and everyone who plays in it won £30,000.
At least 32% from every ticket goes to charity. The People's Postcode Lottery has raised £371million for over 5,500 causes nationally and internationally.
A number of local causes have been supported by players, including New Start Highland, which was awarded £19,000 last year. With the funding, the charity is running job skills training courses for people in the Highlands who are suffering from social isolation and exclusion which are accredited by UHI as well as industry organisations.