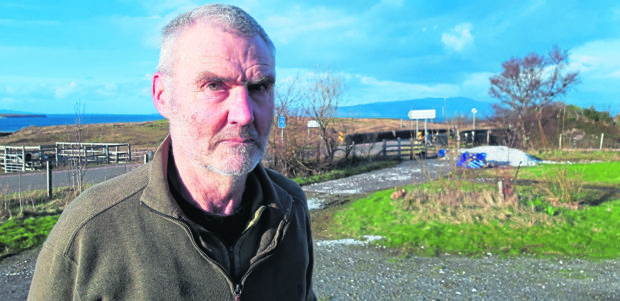 Plans for central belt flights from Skye have been dealt a blow as it emerged no Scottish Government cash will be available for the project.
Highland Councillors agreed to write to the Scottish Government earlier this month asking for funding to secure an air service to the island – giving the green light for a link between Glasgow and Edinburgh to be re-established to the island.
But this week, a letter from transport minister Michael Mathieson MSP to objectors of the airport he said he had no plans to fund the scheme.
The letter, sent to anti-airport campaigner Tom Stephens from Skye, said: "The Scottish Government does not have the resources to fund this proposal and, should it proceed, we would expect any funding to be sourced at a local level.
"Any future developments of the airstrip at Broadford remains a matter for Highland Council as the owner of the airstrip site."
---
Local and Proud: Follow our new Facebook page dedicated to the Highlands and Islands
---
Mr Stephens, who says the airport could be an environmental disaster for the island, said the plans for the airport were "a waste of so many people's time and money".
After a debate at the Environment, Development and Infrastructure Committee earlier this month, it was decided that its chairman Allan Henderson would write to the Scottish Government asking for support for a trial service flying daily between Skye and the central belt.
It was assumed that support for the flights would be forthcoming from the Scottish Government through the Public Service Obligation (PSO). PSO flights in Scotland currently operate between Glasgow-Tiree, Glasgow-Barra,  Glasgow-Campbeltown route. PSOs have also been imposed on routes within Shetland, Orkney, the Western Isles and Argyll and Bute Council, all of which are subsidised by the local authorities.
A spokesman for the Scottish Government reiterated that the letter sent to Mr Stephens was the official position on the airport in Skye.
Confirming the government had received the letter from Mr Henderson as chairman of HiTrans, he continued: "We will respond to the letter in due course."
A spokesman for HiTrans, said: " Our principal is that people should be able to do business in Edinburgh in one day. At present Skye doesn't have that connectivity – it is the only key regional centre that doesn't have it.
"We have worked on a feasibility study that has proven the demand.
"We remain hopeful that the final answer from the Scottish Government might not be disappointing. To move forward we are contingent on some support from the Scottish Government and local funding. "
A Highland Council spokeswoman said: "The Highland Council awaits a formal response from the Scottish Government in this regard."
At the council meeting earlier this month, the plan for the airport was said to have been developed by Highlands and Islands Airports Limited (Hial), Highlands and Islands Enterprise (HIE) and HiTrans.
A Hial spokesman said: "An airport project on Skye is still at early stage and it's therefore too early to say what involvement, if any, we would have."