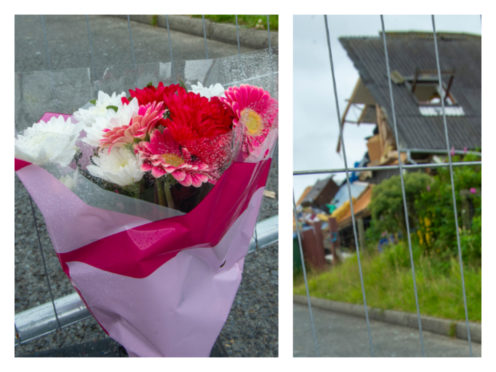 A staggering £5,000 has been raised by the Shetland public for a family who lost a much-loved mum and gran in a devastating gas explosion which destroyed their home.
A crowdfunding appeal was launched after the tragedy which claimed the life of an 84-year-old woman, named locally as Peggy Griffiths.
She was rushed to hospital following the explosion on Tuesday, but died later of her serious injuries.
A teenager, named as her 16-year-old grandson Phillip, escaped from the property virtually unscathed.
An online donations page has now been launched to raise money for the family to help them "rebuild their lives".
It states: "This property was home to the Griffiths family – two of which were in the property at the time of the incident and sadly the grandmother, Peggy, passed away in hospital overnight.
"The grandson Philip (16 years old) was also in the property in an upstairs bedroom and fell out of the house – he thankfully survived the incident however has lost absolutely all his personal belongings from his clothes, phone, DVDs, game consoles etc.
"Please help raise money to support Philip and his mother Mary in buying necessary belongings in order to try help rebuild their lives."
The target of £1,000 was quickly surpassed by the generosity of the public, and had almost reached £,000 last night.
Claire Irvine wrote in response: "I would just like to say thank you all for your generous donations to help my mum and brother at this very tragic time."
Chief inspector Lindsay Tulloch said: "Our enquiries to establish the full circumstances are ongoing with the Scottish Fire and Rescue Service (SFRS). However, there are no apparent suspicious circumstances."
Two taken to hospital after house destroyed in Shetland gas explosion
SFRS Shetland group manager Matt Mason said: "A joint investigation will be carried out between Police Scotland and SFRS to establish the full facts and circumstances.
It is understood propane cylinders providing gas to the house – there is no mains supply in Shetland – exploded.
North mainland councillor Emma Macdonald said: "My thoughts are very much with the family involved and the whole community."
Donations can be made on the JustGiving website.