A woman has been charged and a man has been fined after a car was filmed apparently reaching speeds of 150mph on the north's busiest road.
The video, believed to have been filmed within the past few days, shows the speedometer of the car being filmed on a mobile phone on the A9 north of Tain.
A 20-year-woman has been charged in connection with road traffic offences. She has also been reported in connection with Covid-19 offences in line with the new legislation.
A 25-year-old man who was in the car, understood to be a Renault Clio, has been issued with a fixed penalty fine in relation to making a non-essential journey.
Highlands and Islands MSP Edward Mountain said: "Our roads are quieter than usual due to the lockdown but they must not be used as a racetrack.
"This reckless and dangerous driving cannot be tolerated."
Fellow regional MSP and seasoned road safety campaigner David Stewart was also left angered.
He added: "If there had been an accident then the driver and their passenger would have been dead and maybe there would have been deaths of other motorists or passers-by.
"This type of stupidity puts pressure on our front-line services, such as the police.
"To others I would say, please, please don't be tempted to do this – it could not only cost your life but the lives of others at a time of major crisis for our country."
Joshua Harris of Brake, the road safety charity, said: "Driving over the speed limit is selfish, reckless and endangers lives.
"Excessive speeding is a menace on our roads."
Police said inquiries were continuing after reports of a white car being driven at excessive speed and officers are appealing for information.
Last night, Inspector Donald Mackinnon, of Dingwall Road Policing Unit, said: "We are continuing to carry out inquiries into this incident and I would like to thank members of the public who have already come forward.
"We are still keen to speak to anyone who may have information to help with our investigation, including dash-cam footage.
"Speeding is a contributory factor in many serious and fatal road crashes and this reckless behaviour displayed an utter disregard for the safety of those involved and other road users, particularly at a time when extra strain is being placed on the emergency services and people are being asked to take extra care on the roads and only carry out essential travel.
"Anyone with information who has not already spoken to us already should contact Police Scotland on 101."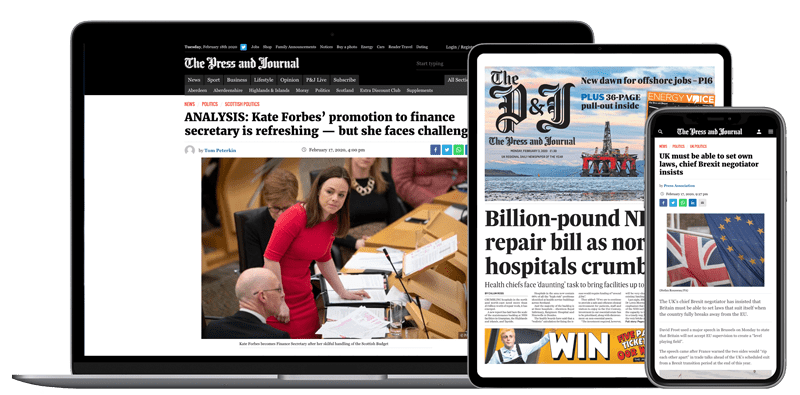 Help support quality local journalism … become a digital subscriber to The Press and Journal
For as little as £5.99 a month you can access all of our content, including Premium articles.
Subscribe