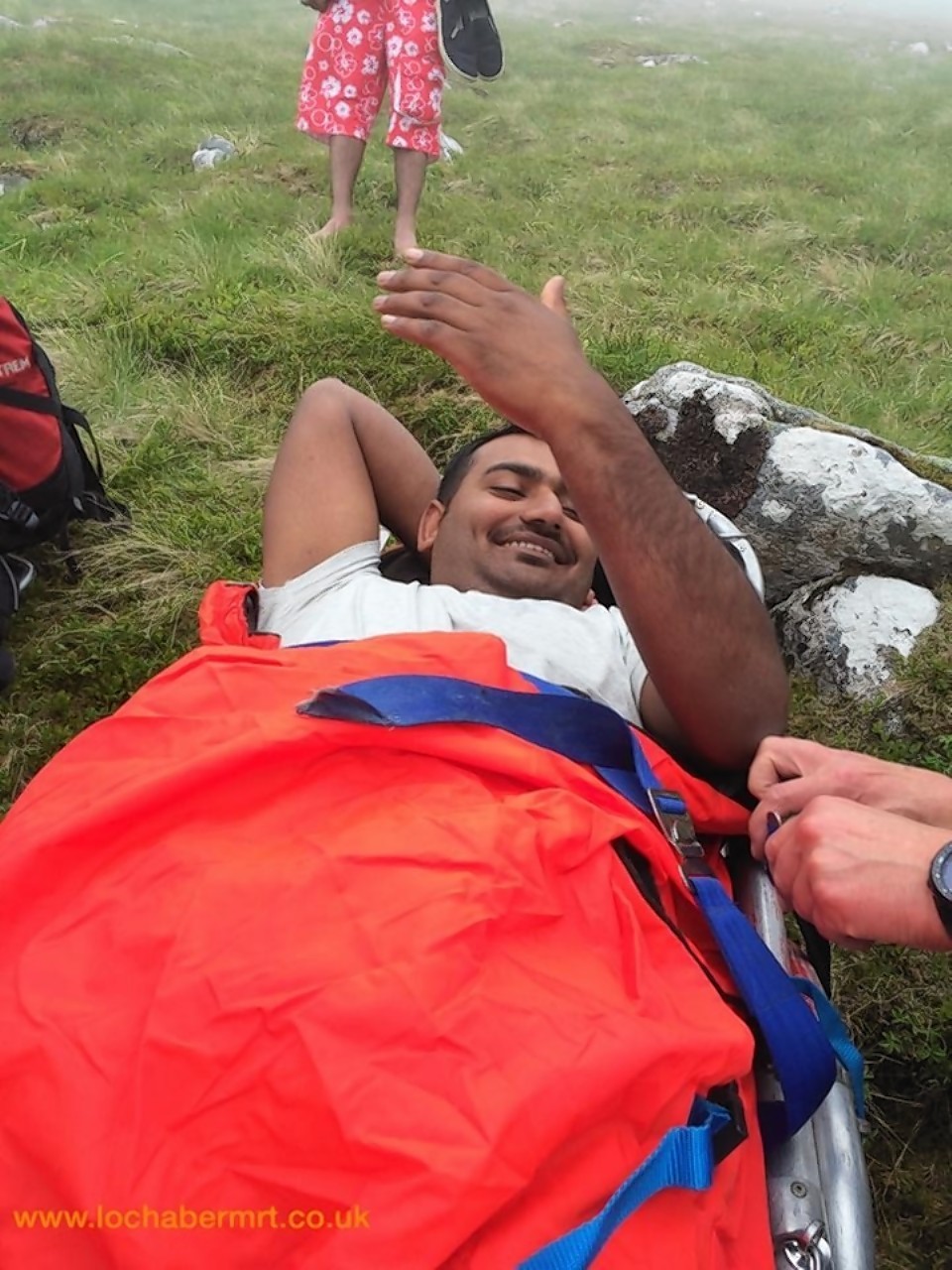 Mountain rescuers have spoken of their shock after they had to carry a man off one of Scotland's highest peaks when he slipped and hurt his ankle – while wearing flip-flops.
The walker's two companions, who said they had come to Scotland to "see the snow", were in bare feet and trainers.
Members of the Lochaber Mountain Rescue team found the hapless trio halfway up 4,006-feet Aonach Mor – a sister peak of Ben Nevis – and took the casualty to safety and treatment in hospital in Fort William.
Team leader John Stevenson said they were astonished when they saw the men's choice of footwear.
He said: "One of our team members, John Macrae, actually hurled one of the flips-flops and told the guy 'That's how much use they are on the hill'.
"They said they wanted to stand on snow in Scotland. We don't know if they actually did. The grass was wet enough to have an accident – especially in flip-flops."
The three Asian men apologised to their rescuers for "all the fuss", said Mr Stevenson.
He said they were left in no doubt about the perils of underestimating the mountains.
"I know in some countries they wear flip-flops to climb hills but we told them next time they come back to Scotland to stand on snow they should wear something more appropriate, like a good pair of boots.
"We see all sorts but having flip-flops is asking for trouble and that is exactly what this lad found. "
It is believed the trio had gone up Aonach Mor using the gondola on Wednesday, and then walked to the Goose area which still has pockets of snow.
Experts said the drama underlined the dangers of going to the hills unprepared and ill-equipped.
A spokesman for the Mountaineering Council of Scotland (MCoS) said: "Just because it is summer, it doesn't mean that you can take mountains lightly, especially not the high mountains like Ben Nevis and Aonach Mor which are both over 4,000ft.
"Conditions can change on the hills in the summer just as quickly as during the winter and there can be an even bigger difference between sea level and the tops.
"You simply can't treat a mountain lightly, whatever the time of year."
Ian Sherrington, chief instructor at Glenmore Lodge outdoor training centre near Aviemore, said: "It sounds like this is a case of poor preparation which has led to these walkers getting into difficulty.
"Our advice is always to undertake a thorough planning exercise, considering the terrain, likely conditions and weather forecasts.
"The other thing we advise as crucial is considering the group you will be walking with and what capabilities they bring with them. That includes equipment and everybody should look out for each other.
"We would never advise people not to go into the hills – but preparation is key."
Lochaber Mountain Rescue team were called out again yesterday to carry another man off Ben Nevis by stretcher.
The casualty had fallen about 65ft on his way down.
Team leader John Stevenson said: "He managed to stop himself half way down and was still conscious and fine when we reached him.
"He was only half an hour from the bottom so it was quickest for us to go up and stretcher him back down.
"He had just banged himself about a bit on the way down, but it's always better to err on the side of caution with falls."
The team was met by an ambulance and the casualty was taken to Belford Hospital for further treatment.