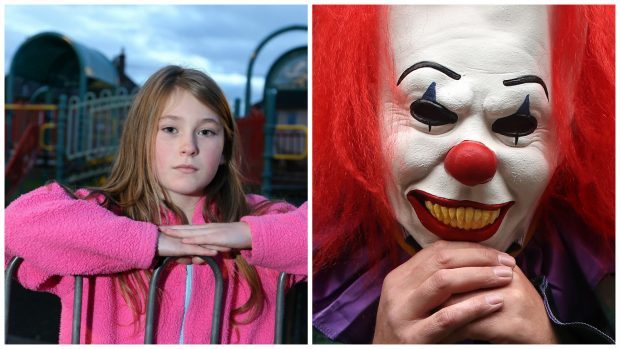 A mother has told how her 10-year-old daughter was left "screaming and hysterical" after being approached by a "creepy clown" prankster in an Inverness play park.
Neva Shand was outside playing on her scooter with friends when she saw two people step out of a car – one wearing a clown mask – and walk towards them.
Her mother, Natalie Jenkins, told the Press and Journal that her daughter said that the person wearing the mask was dragging an object along the ground as they approached.
The culprits are thought to be mimicking a trend that started in the US.
Last night Miss Jenkins, of Rosehaugh Road, said: "Neva was in the park with her friends playing with her scooter, she was just going round the park and it was about 7pm so it was a little dark. Two people got out of a car and started walking towards them and she started running. They all scattered in different directions.
"It was a clown mask they were wearing but the street lights are not very good there. All she remembers is that they were tall. One of her friends said that he saw him and one other person.
"She was screaming that much when she came in that I thought she had fallen and really hurt herself. She was absolutely hysterical and it took her a good hour to calm down. She kept screaming 'mummy, mummy, mummy' over and over and I just kept trying to calm her down by reassuring her that it's just silly people in silly masks."
During the frightening experience Neva dropped her scooter in the park, but by the time her older sister and boyfriend went to retrieve it 10 minutes later it had gone.
And since the incident on Monday night, Neva has been too petrified to go back outside and play with her friends. Miss Jenkins also said that her daughter has been too scared to leave her side in the house, and even had to follow her into the kitchen while she poured a glass of milk.
The 42-year-old added: "It's just a ridiculous prank. What is a grown-up doing going up to kids' parks? It's just not right. At least grown-ups have the power to shout back, but kids are going to be scared of adults, especially adults they don't know, walking towards them in the dark."
Miss Jenkins added that, following the incident involving her daughter, she was told that pranksters had been seen near Merkinch Primary School earlier that day. Police in Inverness have already responded to "a few" reports of people dressed as clowns frightening members of the public in other parts of the city, including Inshes, Milton of Leys and Culduthel.
Yesterday, local police issued a statement of response from Police Scotland's Superintendent David Duncan, which read: "We have had a few sporadic reports of individuals dressed as clowns in some areas in Scotland. It is assessed that there is a current trend of similar incidents on social media, many of which have been confirmed as hoaxes and emanate from overseas.
"The reports which have been made to police officers are being investigated and do not specifically involve threats or violence.
"Any person seeking to cause distress and potential harm to anyone should be aware that police will take action. If anyone has any concerns they should report the matter to police."