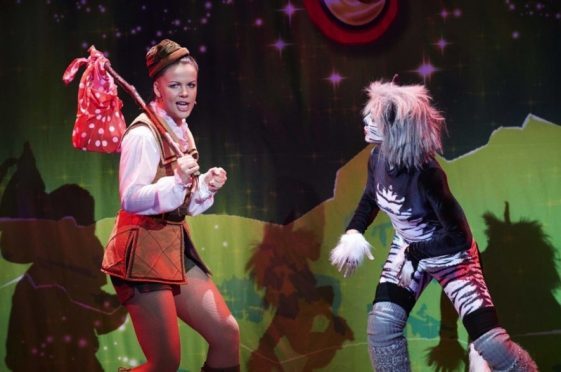 The cast and crew of Eden Court's Dick Whittington delivered a stellar performance yesterday packed with colour, comedy and fantastic choreography.
This is a panto with all the much-loved essentials – a formula reflected in the crows of schoolchildren frequently taking to their feet to sing, dance and shout throughout the show.
Presented by Imagine Theatre, it follows the story of young orphan Dick Whittington (Charlotte Forbes) who comes to London to seek his fortune after hearing that the city's streets are paved with gold.
But writers Iain Lauchlan and Will Brenton add a Highland twist to the tale.
In the opening scenes, Dick sets off with his faithful best friend, a cat named Tommy (Sophie Donald), singing The Proclaimer's hit tune "500 miles" all the way from Crown Drive in Inverness to the UK capital.
After arriving in London he finds love with Alice, the daughter of a wealthy merchant named Alderman Fitzwarren (Crawford Logan), but villain King Rat (Colin Little) conspires to come between them after Tommy scares off his plague of rats.
King Rat then sets a trap for Dick so that he is accused of stealing money from Alice's father, and is exiled from the city, but then has a dream which inspires him to return to the city to find his woman and become Lord Mayor.
Dick then ends up on a voyage to Morocco and befriends a sultan with a rat problem which is dealt with by trusty Tommy and the sultan provides him with all the gold and jewels he could want.
Standout scenes are the fantastically funny duos of Sarah the Cook (Steven Wren) and her son, Idle Boaby (Ross Allan), as well as that of evil genius King Rat and his right hand rat, Stinky (Euan Bennet).
Idle Boaby also has a particularly novel way of engaging the schoolchildren and teachers in the audience with reference to the Pokemon Go craze, which the kids absolutely loved.
There are also countless jokes, innuendo and references geared towards the adult audience to keep parents and teachers entertained.
Dick Whittington is the only pantomime story to be based on a real life figure, Richard Whittington, who lived in London in the 14th century during Tudor times. When he died he left behind a vast amount of wealth, and over time many Londoners shared their own tales about how he acquired it all.
Dick Whittington runs at Eden Court, Inverness until January 8. Contact 01463 234234.