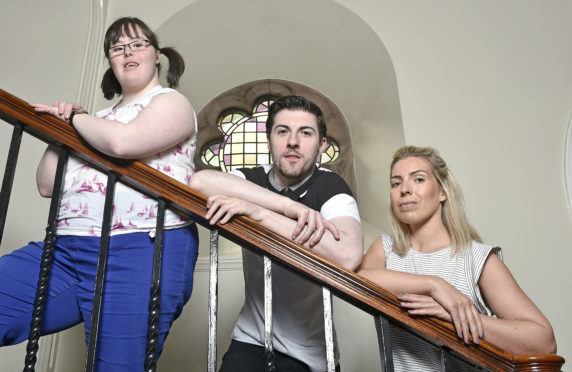 A young woman with Down's Syndrome is the star of a hard-hitting new play which will be performed in Aberdeen and Inverness in the coming weeks.
Abigail Brydon, 24, has taken the leading role in Downs With Love, a drama by Scottish company Cutting Edge Theatre, which explores question of love and disability, and invites audiences to think about their own preconceptions.
The work will be staged in Gerrard Street Church, Aberdeen on Saturday, the Phoenix Centre, Bieldside, on Sunday and at Eden Court in Inverness on June 12.
Miss Brydon said: "I'm excited to be on tour for the first time because it will be a new experience for me and I'm looking forward to doing the play to different audiences and in different theatres.
"It's important to encourage people to follow their dreams. Everyone should be encouraged in their abilities. You just need to believe in yourself."
Miss Brydon plays Beth, a young woman who lives a happy, independent life and has her eye on Mark – portrayed by Stephen Arthur – who sings in the local pub on Friday nights.
However, when Mark starts to fall for Beth's support worker Tracy – played by Katie Milne – matters soon become a lot more complicated.
Writer and director Suzanne Lofthus said: "Downs With Love challenges us all to think about what we consider acceptable.
"Can we accept a couple, one of whom has Down's and one does not, or would that make us feel uncomfortable?"
"Abi is in a very strong position throughout the play. She doesn't leave the stage. We are not aiding her in any way – we are all equals on stage.
"She's an actress in her own right, doing what she does, and that makes the story even more powerful."
Miss Brydon – who would love to land a role in Coronation Street – is currently studying acting and performance at Fife College. She has also been a member of the Inspire programme, created by Cutting Edge Theatre, offering drama to young adults with additional support needs.