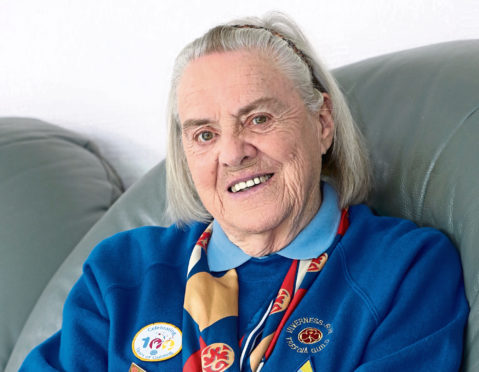 The Press and Journal's series marking the 75th anniversary of D-Day sparked reminiscences for two readers with remarkable tales to tell, writes Susan Welsh
Nancy Scott
At 88, Nancy Scott, from Inverness, still gets shivers thinking about the moment she heard Britain was at war with Germany.
However, our recent series marking the anniversary of D-Day brought further memories flooding back, particularly of the role she and her fellow Girl Guides played in the aftermath of the offensive against the Germans.
"I remember the day war broke out as we were in St Columba's Church as usual at 10.45am," said Nancy, a retired head teacher.
"We sang our first hymn then someone came in and handed a piece of paper to the minister, Mr Elliot, who then said 'I'm stopping the sermon because war has been declared.' People around us started crying. Then we sang, Oh God Our Help in Ages Past – that moment and hymn has been stuck in my head ever since.
"When we came out of church I remember my father saying they thought they'd had enough in the First World War and that we'd never have to go through that again."
A pupil of Merkinch Primary School, Nancy recalled the importance of always having your gas mask with you being drilled into her and being taught how to hide under a table during an air raid if they could not make it to the nearest shelter.
"We lived in a block of flats and all the men – those too old to be called up immediately – got together and dug out a huge shelter in the garden.
"It had big wooden beams, linoleum on the floor and a wee stove.
"We'd to use the shelter regularly as bombers, trying to target the aluminium factory in Foyers, flew across Inverness a lot."
Nancy (nee Sutherland) had two older brothers, Alex and Billy and all had jobs to do.
"Before he volunteered to join the RAF, Alex was on fire watch duty at Inverness Castle. Billy always had to make sure the fire was on at home and my job was putting the budgie, Jocky, under the table during an air raid and going to the shops to collect the rationed food.
"I remember the excitement when word got out that the Co-op had oranges."
While the battles raging across Europe seemed a long way from Inverness, what happened there had a direct effect on Highlanders.
"I remember seeing my friend standing at the school gate crying and when I asked why, she told me her brother had been killed at the Battle of El Alamein.
"She had four sisters and he was the only boy – dead at 19.
"That hit us all really hard," said Nancy.
A bright girl who attended Inverness Royal Academy, Nancy was also a loyal member of Crown School Guides.
"Although the Guides were never mobilised during the war, they played a magnificent role in the war effort," said Nancy.
"We'd collect large amounts of sphagnum moss used for dressing wounds and gather rose hips in great quantities to help supplement the needs of expectant mothers and all children aged under five.
"When I was 11, I joined other Guides and spent two weeks gathering the fruit harvest at farms in Coupar Angus.
"We slept on the floor of an old school. The food was horrible and we'd to work from 8am to 6pm.
"I suffered dreadful homesickness, but it was the making of me and I've never been homesick since."
In Inverness, Guides were used in "training days" for medical rescue teams, acting as seriously injured casualties.
"I remember one boy being made to look like he had a gory compound leg fracture, with the bone sticking right out of his leg.
"One lady, passing the building we were in, didn't realise it was an exercise and fainted when she saw the boy's injury."
However, seeing what looked like dreadfully injured people all around her would later stand Nancy in good stead.
Raigmore Hospital in Inverness had been hastily built in 1941 as a place capable of coping with a possible influx of military patients and civilians caught up in the blitz.
In the early years of the war it saw no major action, but in the run up to D-Day, the number of beds being occupied by civilians was reduced as they predicted high demand for beds for casualties.
Following D-Day, a number of trains, each carrying around 200 wounded personnel, doctors and nurses arrived in Inverness.
"As Guides we were asked to do something that, emotionally, we weren't ready for," said Nancy.
"Our captain gathered the senior Guides – aged around 11 and 12 – and told us we were needed to do a special job.
"We had to report to Raigmore Hospital and had no idea what to expect.
"Our job was to help the nurses in the wards, working a 12-hour shift from 7am-7pm on Saturdays and Sundays.
"The patients, all in identical pyjamas, were injured soldiers, some of them paralysed, some suffering from trauma and all casualties of D-Day.
"Dealing with them made me grow up quickly.
"We'd help prepare and serve the meals, wash dishes, change sheets, clean and polish, help nurses and chat to the patients, most of whom were just young boys.
"They enjoyed talking to us – we were innocent young girls – so they were always polite.
"We'd have a wee joke or two with them and try to cheer them up and, somehow, they got the strength to pull through.
"It may sound strange, but at times, the feeling in the ward was one of euphoria – despite witnessing terrible atrocities and seeing comrades killed in front of them, they were glad to be alive.
"It was terribly sad as they weren't allowed visitors.
"I think their presence was kept secret as if people knew of the high number of casualties, it may have damaged morale – and morale had to be kept high."
Nancy and her fellow Guides continued to help out until the hospital was better organised.
For "doing their duty" they were awarded a special War Service Badge and Nancy proudly sewed four badges above the pocket of her uniform.
"After war was over, at the victory church service and parade, the Guides marched, proudly carrying their flags high," she said.
"We all prayed, dear God, never let this happen to future generations.
"We were free, but what a price we paid.
"We owe an outstanding debt to those who lost their lives and can never really thank them for what they sacrificed."
ALEX LOVIE
Our D-Day series prompted reader Peter Morrey to get in touch and share not his wartime memories, but those of the late Alex Lovie, from New Deer.
He met Mr Lovie during a visit to a local building firm in 1989 and the conversation got round to the Second World War.
"I recounted that my three uncles on my paternal side and three uncles on my maternal side were fighting for the British forces during the years 1939 to 1945 in Africa, Europe, the Middle East, the Far East and an anti-aircraft gunnery in the Shetland Islands," said Peter.
"Alex remarked that he, too, was fighting in Tunisia, Libya and Egypt for nearly two years, advancing with thousands of his mates with the Allied armies against General Rommel and the Africa Corps and the troops of Benito Mussolini.
"He then crossed by troop ship with thousands of other Allied troops towards Italy, where he spent two years. "
Alex – who for years was simply known by his Army number, LOVIE 2014440, revealed it was just after midnight in early March 1944 when the ship anchored just off the bay of Naples on a fine night, with flat calm waters.
The men were transferred to landing craft the mile or so to the beach, then the landing craft sailed in towards the beach.
It was so quiet, the engines were turned off and the front gates were lowered, not an enemy shot was fired as they waded out of the sea at Anzio and on to the Italian front line.
Previously, Italy had been controlled by the troops of Italian dictator Benito Mussolini, strengthened by Hitler's troops and jointly called the Axis power.
Mussolini ordered 300,000 of his troops to go into Egypt and attack the Allies in autumn 1940.
The Allies retaliated and drove them back nearly to Cairo.
In 1943, the Axis defeat in North Africa and the massive Allied landing in Sicily brought about Mussolini being deposed and replaced by Pietro Badoglio.
He said that the troops would continue at the side of their German allies, but at the same time he actively negotiated the surrender to the Anglo-American Allies.
The defensive German "Gustav Line" ran across Italy from north of the Gariglinno River on the Tyrrhenian Sea in the Western coast, to the mouth of the Sangro River on the Adriatic Sea, on the Eastern coast of Italy.
All land north of the Gustav Line in Italy, including virtually the whole of Europe, was Axis controlled.
American forces had landed in French Algeria and had handed 300 new M4 Sherman tanks and self-propelled 105mm artillery pieces to the British 8th Army.
With these new American tanks and self-propelled guns, they chased the Axis Africa Corps right across Libya and into Tunisia, where they surrendered in May 1943.
The Allied forces took 275,000 prisoners of war. Rommel flew back to Germany.
Meanwhile, the volcano, Mount Vesuvius erupted between March 18-23 1944, causing liquid white-hot boulders and lava flows in the whole area.
About two days before it erupted, Alex and his fellow troops in the Allied British 8th Army at Anzio waded from the landing craft, got ashore, joined up with their M4 Sherman tanks and took to the road with their American Allied troops towards Rome.
On the second night it was pouring with rain. They made a large covering with a sheet of tarpaulin strung up between two Sherman tanks and spent the night there.
By first light, outside of their tent, there was six inches of white ash spread far and wide and bulldozers with ploughs were needed to clear the roads of the snow-like ash.
British troops had taken control of Cassino town at the foot of the Monastery hill.
The Allies, under the overall control of Sir Harold Alexander, began the final offensive for Monte Cassino on May 11.
Three days later, the Gustav Line was broken.
Reports from Allied headquarters said the 8th Army succeeded in cutting Highway 6 from the south of the country to Rome, cutting off the retreat of the Axis forces.
On June 5, Rome fell to the Allies and a day later, D-Day started with the invasion of Europe via France.
Alex married Isabella in 1945 and the same year was sent to Keil, West Germany.
He was still stationed there when his eldest daughter Lorna was born the following year.
Lorna said: "It was many years before dad could speak about the horrors of war with myself, my brother Norman or sister Kathleen.
"He'd often tell us his Army name and number: LOVIE 2014440 – this was a number he never forgot."
Alex and wife Isabella shared 71 happy years together until Alex died in 2016 aged 96.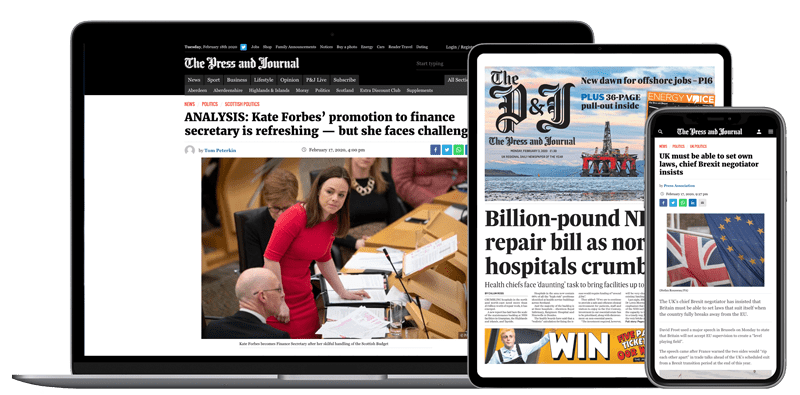 Help support quality local journalism … become a digital subscriber to The Press and Journal
For as little as £5.99 a month you can access all of our content, including Premium articles.
Subscribe